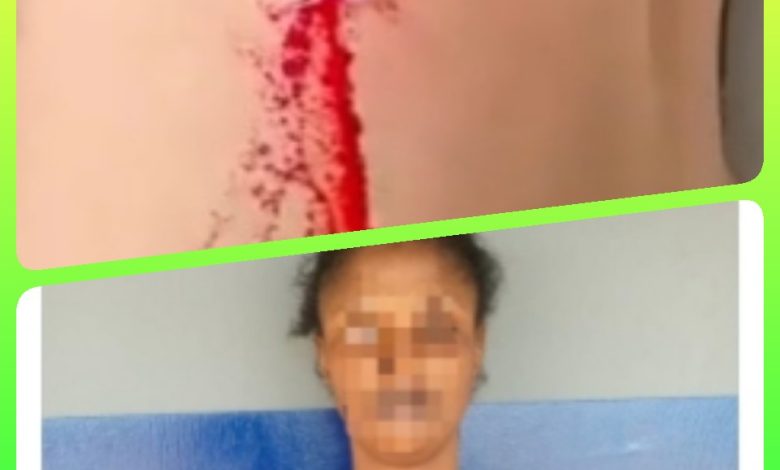 Community
Lagos woman pierces girl with knife
..nabbed by Police
By Bose Adelaja
CITIZENS COMPASS – Lagos State Police Command on Sunday, confirmed the arrest of an expectant mother,, Eucheria Ndigwe, 30, who allegedly pierced the body of a girl with a knife in Ojo area of the State.
The incident reportedly occurred in Adaloko area of Ojo, on Friday, May 19, 2023.
The video of the incident posted by a Twitter user, @GentleofUSA, had gone viral on Friday which attracted sympathisers' attention.
In the video, the house help was seen stepping out of a bungalow in fear while a male voice was engaging her in a conversion which revealed the maltreatment meted on her by the woman.
The girl waa seen pulling her dress to reveal a deep cut very closed to her ribs with blood surrounding it.
The background voice narrated that she was a neibour to the woman.
He also said that the girl's body was earlier stained with blood.
Narrating her experience, the girl said her aunt (boss) pierced her body for failure to wash a bag. " My name is Chinasa Aneme, from Anambra State.
" My aunty used a knife to pierce my body because I did not wash a bag. "
The background voice said this occured on May 19, 2023.
The video was tagged with a caption, " For those Of you Who don't know Adaloko, this place is located in Ojo LGA of Lagos. This things are happening every where around us but we try to display "I don't care attitude" but this girl was just lucky this morning to have this alarm raised on her let's share till she gets justice, "
Spokesperson, Lagos State Police Command, SP Benjamin Hundeyin, while reacting to the video in series of tweets on Sunday, May 21, 2023, said the suspect has been arrested and was under investigation, " The suspect, Eucheria Ndigwe, aged 30 was arrested yesterday. Due to the fact that she is heavily pregnant, she has been moved to our recently upgraded Gender Unit, where in conjunction with @Lagosdsva, she will get adequate medical attention while investigation progresses, "
Hundeyin said the Anambra State Commissioner for Women Affairs, Mrs Ify Obinabo, has visited the survivor who is currently receiving medical care at Police Hospital, Ikeja.
" She arrived in company of @LagosPoliceNG OC Gender Unit, CSP Grace Agboola, who is currently handling the case, "
According to her, Chinasa is currently undergoing medical treatment at an undisclosed hospital, " The survivor is currently getting adequate medical care @medical_police facility, Ikeja."
The spokesperson assured Lagosians of the command's commitment adding, " @LagosPoliceNG remains committed to combating domestic, sexual and gender-based violence across the State."