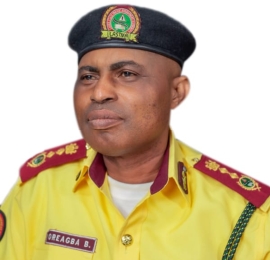 Community
LASTMA did not crush pregnant woman to death at Computer Village – PRO
PRESS STATEMENT
RE: LASTMA OFFICERS REPORTEDLY CRUSH PREGNANT WOMAN TO DEATH AT COMPUTER VILLAGE, IKEJA, LAGOS. 
CITIZENS COMPASS —THE Lagos State Traffic Management Authority (LASTMA) on Tuesday, August 29, 2023, has described as untrue an online report which claimed that its officers crushed a pregnant woman to death at Computer Village, Ikeja, Lagos.
LASTMA spokesperson, Adebayo Taofiq explained in a statement, that the online platform did not report the true version of what transpired. 
He said the woman in question fell from a mini bus whose driver drove recklessly in the area. 
The spokesperson also said that the woman was not pregnant and was not crushed to death as widely circulated. 
"The attention of the Lagos State Traffic Management Authority LASTMA has been drawn to the above captioned story published/circulating by an online media (@SamzyVG & @ToyosiGodwin) today Tuesday, 29th of August, 2023.
" In a statement released by the Director, Public Affairs and Enlightenment Department of LASTMA Mr. Adebayo Taofiq disclosed that the story as presented by online media was not the true position of what transpired today at MRS Filling Station on Kodesoh road, Ikeja.
"Preliminary  investigation revealed that a mini commercial bus  (korope) driver upon sighting a LASTMA Patrol Van in front of MRS Filling Station queuing to fuel up, drove dangerously and a passenger sitting by the door which was not closed fell down from the 'Korope' and was immediately rushed to LASUTH for medical treatment due to minor injuries she sustained.
"Investigation further revealed that the woman was not dead as reported but, only sustained minor injuries which has been treated at LASUTH, and was finally discharged.
"The statement that a pregnant woman was crushed to death by a LASTMA Van during a 'Korope' chase was not true as she was confirmed not to be pregnant before she was discharged from LASUTH with her husband.
" The matter was immediately reported at Area 'F' Divisional Police Station for further investigation.
" Consequently, the Management of LASTMA enjoined all commercial bus operators to always ensure safety of their passengers by having their vehicle door closed while on motion as enshrined in the Lagos State Transport Sector Reform (2018)."