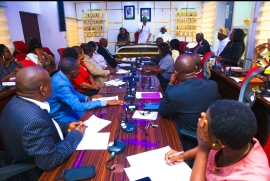 Community
Local Government Commissioner, Special Adviser affirm readiness to ensure development in Lagos communities 
CITIZENS COMPASS —THE newly sworn-in Lagos State Commissioner for Local Government, Chieftaincy Affairs and Rural Development; Mr. Bolaji Kayode Robert and the Special Adviser on Rural Development; Dr. Nurudeen Yekini Lanre Agbaje on Monday, September 18, 2023, reiterated their readiness at ensuring that the dividends of democracy extends to all the nooks and crannies of the State. 
They said this is in line with the THEMES-Plus Agenda of Lagos State Governor, Mr. Babajide Sanwo-Olu.
Mr. Bolaji Kayode Robert, the immediate past Special Adviser to the Lagos State Governor on Local Government and Community Affairs disclosed this at the Conference Room of the Ministry during their maiden meeting with the Management Staff of the Ministry.
According to him, "Mr Governor has directed us to hit the ground running to ensure that every part of the State is livable, especially as we concentrate efforts towards making Lagos a 21st Century Economy".
Mr. Robert, also a former Chairman, Oto-Awori Local Council Development Area noted that the Ministry which is saddled with the responsibilities of initiating, formulating, executing, monitoring, evaluating policies relating to Local Government Administration in all the 20 Local Government Areas and 37 Local Council Development Areas is a Mini-Lagos.
"Other responsibilities include; Chieftaincy Affairs including relationship with Council of Obas and Chiefs as well as Community Development, he added.
Similarly, the Special Adviser to the Governor on Rural Development; Dr. Nurudeen Yekini Lanre Agbaje on his part, explained that restoring the Office of Rural Development back to the Ministry of Local Government, Chieftaincy and Rural Development is a pointer to the fact that Mr. Governor is so much interested in development of the grassroot communities across the state
He therefore called on community leaders, Community Development Associations and other stakeholders to key into the programmes of the administration of Mr. Babajide Sanwo-Olu geared towards the fulfillment of the collective aspiration of Lagosian who seek economically viable communities across the State.
Earlier, in her welcome address, the Permanent Secretary in the Ministry, Mrs. Kikelomo Bolarinwa expressed her readiness and unalloyed supports of all the members of staff in the Ministry for the Commissioner and the Special Adviser in achieving all the task and set goals in line with the mandate of the Ministry, for the successful implementation of the THEMES-Plus agenda to the Governor of Lagos State, Mr. Babajide Sanwo-Olu.