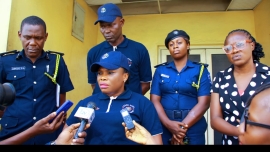 Community
Man attacks fire fighters in Lagos 
… Lands in court 
CITIZENS COMPASS —The Lagos State Fire and Rescue Service has formally taken legal action against one Waheed Balogun, aged 40, for an alleged assault on a Firefighter during official duties on Monday, October 1, 2023, at 167 Egbe Road, Cele Egbe, Ikotun, Lagos.
Balogun contends that the Firefighters obstructed his tricycle/motorcycle park operations with their Fire truck. Subsequently, he was apprehended by the Lagos State Environmental and Special Offences Task Force last Thursday and is now facing charges at the Lagos State Special Offences (Mobile) Court, Bolade, Oshodi, Lagos.
The presiding Magistrate A. A. Adesanya has granted Balogun bail under specific conditions, requiring the offender to pay a bail amount of 200,000 Naira with two sureties in like some meeting the following criteria: Lagos residency, public servants or clergy men, two years of tax payment receipts, LASSRA card, and National Identification Number (NIN). The court has adjourned the hearing until the 19th day of December 2023, allowing all involved parties to perfect their matters.
Margaret Adeseye, Director of the Lagos State Fire and Rescue Service, emphasized that this incident constitutes one of twelve public disturbances against the agency this year. She underscores the agency's unwavering commitment to a comprehensive legal process, aiming to ensure justice is served and to establish a precedent that deters similar actions in the future.