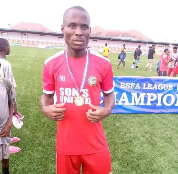 CITIZENS COMPASS- BEBELEBIRI Community, in Yenagoa Local Government Area, Bayelsa State has been thrown into mourning following the death of a footballer while rescuing some flood victims in his community.
The 31-year-old footballer, Ernest Peremobowei, was said to have met his untimely death after rescuing five  lives.
He was trying to assist people to a safe ground but death came calling in the process.
Citizens Compass gathered that he was caught up in the raging flood shortly after ferrying his wife and three children to a higher ground.
According to eyewitnesses' accounts, the canoe which was conveying him and six other persons from the Federal Medical Center waterfront capsized in the raging flood.
His decomposing body was said to be recovered two days later.
Bebelebiri FC Coach, Kenneth Dreams confirmed the incident.
He said "
He took his family to an Internally Displaced People's (IDP) camp because the flood had taken over his house.  While returning home, he boarded a canoe with six others when the wave of the raging flood capsized the boat.
We heard that he was able to save four persons who were involved in the boat mishap before drowning at the end. He was a great player during the tournament but we have no other choice but to accept the loss."
The deceased younger brother, Earnest Komboye, who also confirmed the incident said, "Due to the high wave of the flood, they lost control of the boat and we're flown into the government jetty barge.
"He was the only good swimmer but died due to exhaustion after saving the five co-passengers."