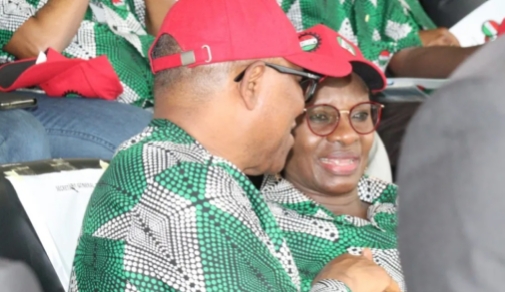 Politics
MAY DAY: Workers surprise Peter Obi 
CITIZENS COMPASS – Nigerian workers on Monday, May 1, 2023, gave a loud ovation to Labour Party's presidential candidate, Peter Obi.
This took place at the Eagle Square gathering of the May Day celebration.
Citizens Compass reports that President Buhari was represented by the Secretary to the Government of the Federation, Mr Boss Mustapha. 
The May Day event had proceeded with usual workers' bravado with the FCT minister eulogising the workers. 
Mustspha was accompanied by Minister for Labour and Employment, Senator Chris Ngige. 
Following the speech by Ngige, the presidents of the two labour unions, Nigerian Labour Congress, (NLC) , Mr Joe Ajero and the Trade Union Congress, (TUC) , Mr, Festus Osifo were called upon to give their address.
Prior to this, Mr Osifo invited Obi to greet the workers but as Obi mounted the stage and was flanked by some Labour officials, the atmosphere was thrilled with melodies as Osifo continuously charged Obidient Nigerian workers and thereafter sang solidarity songs.
According to him, " All we want is a country where Nigerians will be proud to say that we are Nigerians, a country where people will not be struggling to go out. A country where all of us workers will be working and say that they are happy.
" You cannot get anything right until the workers are working and are being looked after and their welfare and everything and they are productive. That is why we say we will move from consumption to production. I urge you to continue what you are doing and to be law abiding.
The speech was tailed off by shouts of Obi! Obi!! Obi!!
It was learnt that shouts of Obi by the workers continued even as the NLC president started his speech to the bemusement of the seated dignitaries mostly of the ruling All Progressives Congress (APC) extraditions. 
Recall that Obi has petitioned Presidential Elections Tribunal to challenge the victory of APC presidential candidate, Bola Tinubu. 
Present at the occasion were the minister of the Federal Capital Territory (FCT) Alhaji Mohammed Bello, women affairs, Mrs Paullen Tallen; and Labour and Employment, Senator Chris Ngige among top members of the ruling All Progressives Congress, APC who watched as the workers celebrated Obi.