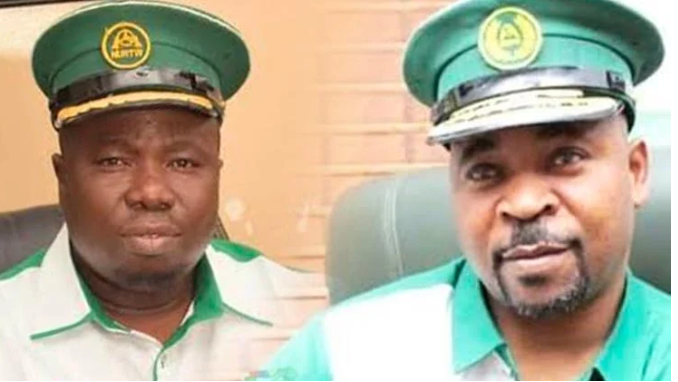 SOME loyalists of the suspended Chairman of the Lagos State Branch of National Union of Road Transport Workers NURTW, Alhaji Musiliu Akinsanya popularly known as MC Oluomo and that of the Chairman, Tricycle Owners and Operators Association of Nigeria (TOOAN), Lagos State, Alhaji Azeez Ajibola, popularly known as Istijabah, on Friday, clashed in Abule-Egba area.
The fight which started in Ekoro at about 9am spread to Oke-Odo, Meiran and Abule-Egba and caused panic in the affected areas such that vehicular and commercial activities were disrupted for hours.
A resident of the area said they also heard gunshot sounds.
However, Spokesperson, Lagos State Command, Benjamin Hundeyin tweeted, "Men of nearby divisions and the RRS are fully on the ground, and the areas are absolutely calm."
According to him, policemen from nearby divisions and men of Rapid Response Team have been deployed to the areas.
Eye witnesses' account said at about 9am, gunshots were heard at Meiran and Ekoro Road in the Abule-Egba area as the loyalists invaded the areas in motorcycles, tricycles, buses and cars shooting into the air and threatening people but they were resisted by the Istijabah' faction.
A resident, who is an official of Alimisho Local Government, said, "The NURTW boys came and were chased away by Keke Napep boys. The police came around and stopped what could have been a major fight. We hope that the fight ends there.
"We are no longer safe in this area. I suggest the police station their officers here permanently."
An eye witness Deborah Akinola said the impact of the clash was noticed at Awori and U-Turn where ran Helter skelter owing to gunshots on the expressway.
Normalcy later return to the affected areas as Policemen were on ground.
Residents who spoke with Citizens Compass urged the state government to arrest offenders.