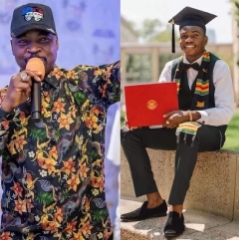 General News
MC Oluomo's son graduates in Chemical Engineering 
CITIZENS COMPASS – Ololade Abdulai Adesanya, the son of chairman, Lagos State Parks and Garages, Musiliu Akinsanya popularlly known as MC Oluomo, has bagged double degrees in Chemical Engineering and Business Management at Massachusetts Institute of Technology in the United States of America.
MC Oluomo disclosed this in one of his tweets saying both the engineering and business departments of the school  acknowledged and honored his son for his extraordinary dedication.
He said Ololade graduates with an outstanding 4.0 GPA, a double degree in Chemical Engineering and Business Management.
Celebrating the graduand, MC Oluomo took to his social media account with the caption; "Today, I celebrate my son, Ololade Abdulai Akinsanya. He has graduated from MIT, one of the highest-ranked universities globally, with a double major in Chemical Engineering and Business Management, maintaining a remarkable 4.0 GPA. 
"His exceptional dedication was recognized and awarded by both the Engineering and Business departments as he was the student who demonstrated the highest level of effort and achievement in coursework, leadership, and professional activities. Congratulations, my son."
Similarly, Pastor Okezie Atani, a fan of MC Oluomo took to twitter to share the news and encourage Nigerians to emulate MC Olumo over the feat of his son.
I just want to let you know that MC Oluomo son has graduated from MIT, United State. He graduated with GPA of 4.0 with double major in Chemical Engineering and Business 
This is for those who kept going on and on about GRV graduating from MIT. 
And for those who called McOluomo a tout and all the 
rubb!sh names you guys have been calling him.
Some of you that insulted him can't send yourself or your wards to even poly and you hide behind your china phone to type trash.
Well the tout MC Oluomo sent his son to MIT America and the boy came out with remarkable GPA. 
Congratulations