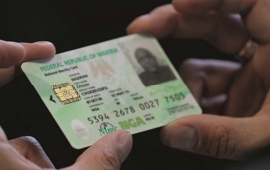 General News
Ministry of Interior to supervise National Identity Commission 
CITIZENS COMPASS —THE National Identity Management Commission (NIMC) will henceforth be supervised by the Federal Ministry of Interior, Citizens Compass can authoritatively report. 
The Federal Government of Nigeria said NIMC has been moved to the Ministry of Nigeria.
Established by the NIMC Act No. 23 of 2007, the commission has the mandate "to establish, own, operate, maintain and manage the National Identity Database in Nigeria, register persons covered by the Act, assign a Unique National Identification Number NIN and issue General Multi-Purpose Cards GMPC to those who are citizens of Nigeria as well as others legally residing within the country".
The commission was hitherto one of the agencies under the Office of the Secretary to the Government of the Federation OSGF.
It had however come under intense criticisms by many Nigerians who have been unable to get their national identity cards as well as the travelling public who often had delays occasioned by the inability of the commission to process their NIN for passport application processing.
It was gathered that the process of harmonizing the procedure for its full transfer to the ministry is already in its final stages.