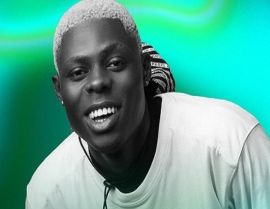 CITIZENS COMPASS —THE mother of late singer, Ilerioluwa Oladimeji Aloba popularly known as Mohbad, says the death of her son was not natural as being speculated by fans. 
The woman who did not disclose her name said she is alive contrary to the rumour making the rounds that she died a long time ago. 
She affirmed that she remains the biological mother to the late singer. 
In an emotion-laden video circulating on social media, Mohbad's mother expressed deep grief at the loss of her son.
She began by debunking speculations that Mohbad's death was due to natural causes, asserting that he was killed.
She claimed that her son's life became troubled ever since he met the singer, Naira Marley.
Her words, "I'm aware my son has been living in fear and having sleepless nights ever since he met Naira Marley.
"He didn't die a natural death; he was killed. Whoever killed my son, that person's home will become troubled. They will face war and curses.
"The glory of the child in their home will diminish because of those who killed him and their sons.
"I am not dead; I am alive. My son didn't find rest, and I couldn't speak up whenever he was falsely accused because I wasn't given the chance.
"I asked my son what happened, and he gave me money to go to the hospital.
"I called him from the hospital, and he told me, 'Mummy, something is happening.' I called him to come home and tell me what happened.
"I am his life and heaven. He said he came home because he heard something had happened.
"He said he was taken and given water, and then he didn't know what happened to him anymore. Since then, I've been on the matter.
"Since then, I've been on it. He died in fear. The fear was too much. If he was supposed to go to some shows, he couldn't go because of the fear that some people were coming.
"He was beaten every day, and I was receiving calls even from people I didn't know. I didn't rest until he was killed, " she said. 
Recall that the late singer who lived in Ajah area of Lagos State died on Tuesday, September 12, 2023 and was buried the following day in Gberigbe, Ikorodu. 
Hia death has brought about accusations and counter-accusations among colleagues, fans and family members. 
Few days after his demise, his biological mother had cried out over the death of her son. 
Citizens Compass had reported that a series of videos have surfaced online about the sudden demise of the singer. 
The sudden and shocking demise of Mohbad continues to grip the nation, with fans, fellow artists, and the entertainment industry struggling to come to terms with the loss.
Meanwhile, the Nigeria Police Force has commenced investigation saying that Mohbad's body may be exhumed if necessary.