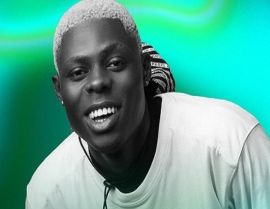 Entertainment
Mohbad's death: Bereaved father opens up on roles of Naira Marley 
CITIZENS COMPASS —Mr Joseph Aloba, father to the young artiist, Mohbad, who died last week Tuesday in Lagos, Mr Joseph Aloba, has cleared the air over the culpability of Marlian Records boss, Naira Marley in his son's death. 
This is amidst ongoing allegations and speculations surrounding the tragic death of Mohbad. 
Mr. Aloba disclosed this in an interview, sharing insights into the circumstances surrounding his son's demise and the nature of his relationship with his former boss.
The bereaved father recounted that when he first learned about the altercation between his son and Naira Marley, he made attempts to reach out to the Marlian Records boss. 
However, he admitted to feeling apprehensive about visiting Naira Marley's residence, which ultimately hindered his efforts to connect with him.
Additionally, he clarified that Naira Marley was not involved in the attack on Mohbad in 2022, attributing it to other individuals as per his son's account.
Addressing the allegations of his son's drug use, Mr. Aloba staunchly asserted that he was unaware of such practices, though he acknowledged drug use within the Marlian group.
Mr. Aloba concluded the interview by emphasizing his belief that his son's passing was ultimately a matter determined by fate, attributing it to a higher power.
Recall that the late artist who lived in Ajah area of Lagos was buried in Ikorodu on Wednesday, September 13, 2023.
Citizens Compass reported that some Area Boys disrupted the burial processes as they attacked Mohbad's colleagues at the venue.
The death has sparked accusations and counter-accusations among friends, colleagues and family members.
Various videos have resurfaced online to butress this as fans await further details.
It will be recalled that the Nigeria Police Force has commenced investigation as there is likelihood that Mohbad's body may be exhumed for postmortem.