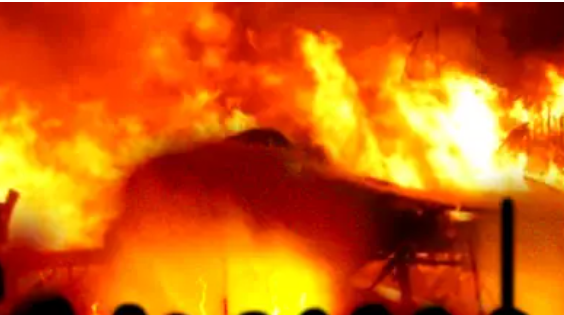 CITIZENS COMPASS– A female alcohol dealer, and her two children have reportedly met their untimely death on weekend, during a fire outbreak involving an illegal petroleum depot in Festac area of Lagos State.
According to eyewitnesses. account said the incident occurred at Old Ojo Road, after Alakija Bus-stop, along Dantata Road at about 5pm.
It was learnt that the incident occurred during black marketers operation at an abandoned petrol station opposite Bovas Filling Station.
They were said to be having supplies from tankers with illegal gasoline products when one of them was visited by the woman and two children unfortunately, the fire outbreak occurred none of the visitors was spared.
It was gathered that the deceased was also dealing on alcohol drinks when she stepped out to visit one of the illegal dealers.
Interestingly, the incident was shielded from appropriate authorities as the illegal operators hurriedly put out the fire and mopped the scene without leaving traces.
However, some passersby secretly got the information and exposed it.
At press time, both the Lagos State Fire and Rescue Service and Lagos State Emergency Management Agency, LASEMA, were not privy to the incident when contacted but Lagos State Coordinator, National Emergency Management Agency, NEMA, Ibrahim Farinloye confirmed the incident saying, ''The incident occurred at about 1700 hours today (Saturday), at an abandoned Filling Station, opposite Bovas filling station, Old Ojo Road, after Alakija bus stop. along Dantata Road, Festac Road, Mile 2.
''It was reported that the illegal depots have supplies from tankers with illegal gasoline products.
The woman was said to be amongst those selling local gins (Paraga) in the area,''
he said.
The Coordinator also confirmed that the incident was shielded from the public, ''the outbreak of the fire was concealed from the knowledge of responders and was curtailed by the operators of the depot but the loss of lives unsealed their cover up.'' He added.