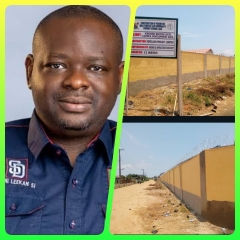 Community
Resumption: Sesan Daini promises educational materials for 12,000 pupils 
CITIZENS COMPASS —THE Chairman, Igbogbo/Baiyeku Local Council Development Area (LCDA), Ikorodu Division, Olusesan Mayokun Daini popularly known as Builder Sesan, has promised donation of  educational materials to about 12,000 pupils across the area. 
He said this to reaffirm the Council's promise towards the provision of a quality and value-driven educational system in the LCDA.
The Chairman recently gave the promise, 
at the Council Secretariat, during a meeting with the 13 head teachers across the primary schools in Igbogbo/Baiyeku LCDA and Mr Afolabi Amusa, Educational Secretary of Ikorodu Local Government Authority. 
He said the educational materials are to be shared among the 12,000 pupils upon the resumption of the 2023/2024 Academic Session on Monday, September 4, 2023. 
According to the Council Chairman, the LCDA, particularly his administration, strongly believes that prioritising education among other aspects of the economy would genuinely bring about the desired socio-economic prosperity to the LCDA and state by extension.
Reeling out some recent developments in the educational sector of the LCDA, some of which are the newly built and fully equipped block of five classrooms in Local Government Primary School, Oreta, an all-round perimeter fencing of Lajo Community School. 
Others are commencement of pupils' registration at the new Olu Odo Primary School in Olu Odo Community, and the pending distribution of educational materials to primary schools across the IBLCDA for the new academic session next week. 
According to him. "There are about 12,000 primary school pupils in Igbogbo/Baiyeku LCDA and we are dedicated to harmonize and prioritise the needs of every primary school in our LCDA. 
"We will equally share exercise books, amongst other educational materials for all the pupils in all primary schools soon," 
He emphasized the need to establish a new primary school in Oshorun area of Ibeshe to allow pupils to have access to primary education in the area.
Present at the meeting were the Vice Chairman of the Council, Hon Nuraini Okedina-Maja, Council Manager, Mr Waheed Tijani, Leader of the Legislative arm of the Council, Hon Nurudeen Alimi,
Deputy Leader, Princess Basirat Banjoko, Councilor Ward C2, Hon Akeem Solawon and Councilor Ward C5, Hon Adekunle Anifowose.