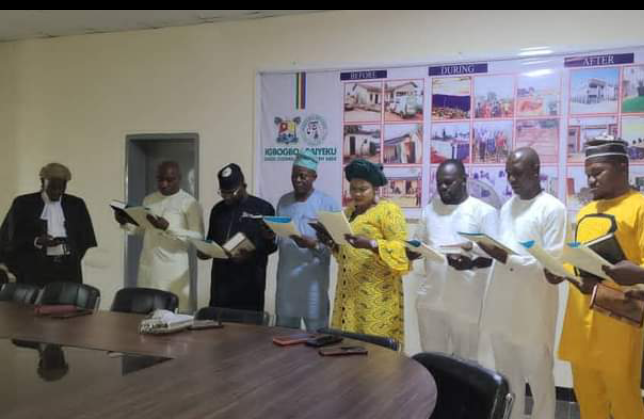 Community
My new task will bring me closer to people – Bolowotan
. as youth leader, others take up new tasks in Igbogbo/Baiyeku
THE Chief of Staff of Igbogbo/Baiyeku Local Council Development Area Ikorodu Division, Lagos, Bolowotan Adewale, has said his new role as a supervisor in the council, will bring him closer to the people.
He was among varying category of officers who were sworn in as supervisors, special adviser and secretary to the local council by the council chairman, Olusesan Daini, on Friday.
Bolowotan was sworn in as Supervisor for Civic Engagement and Strategy,
Among those sworn in was Chairman, National Youth Council of Nigeria  (NYCN), Coordinators in Ikorodu Division and Member, Lagos State Tennis Association, Odusanya Omotayo popularly known as 'TySleek'who was sworn in as Supervisor, Planning, Budget and Statistics/ Information Communication Technology who also said his new position will enable him work harder.
Bolowotan in a statement on Saturday, said,
This new role will no doubt bring me closer to the people, hear their minds and complaints and proffer appropriate solutions as well as to continue the good work of this administration
"I am glad to have been found worthy of this post due to my loyalty and absolute dedication in this field. I promise to use my unreserved strength and ability to serve my community and continue to build the trust for greater responsibilities. I'll also go inline with the *THEMES* agenda of Lagos State," he said.
In conclusion, he appreciated his party leaders for giving him the privilege to serve the council.
With the new tasks, the Vice Chairman of the council, Okedina Maja is Supervisor for Education and Library Services,
Wahid Yusuf is to supervise Works while Barrister Ade Ayeni doubles as Secretary to the Council and Supervisor for Peace and Security Affairs.
Others are Hon.Wasiu Olowu: as Supervisor for Tourism and Special Duties, Mrs Mariam Obayomi (Women Affairs and Poverty Alleviation and Rural Development), Hon. Dawuda Oshilaja (Environment and Waste Management) and Micheal Babatunde Ayeni for Agric,Youth and Sports.
Also, Hon. Yinka Ogunlaja is now Special Adviser on Primary Healthcare.
Ealier, the council chairman Olusesan Daini urged them to discharge their duties as at when due.