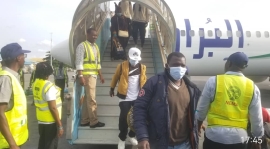 Community
NEMA receives 152 stranded Nigerians from Libya
CITIZENS COMPASS –  A total number of 152 stranded Nigerians have arrived the count from Tripoli, Libya. 
They were received by the National Emergency Management Agency (NEMA), on Tuesday, April 11, 2023, at at the Cargo Wing of the Murtala Muhammad International Airport, Ikeja. 
NEMA Director General, Alhaji Mustapha Habib Ahmed received the Assisted Voluntary Returnees upon arrival. 
The Returnees who arrived aboard Al Buraq Air Boeing 737-800 with registration number 5A-DMG landed at about 1638hours.
The profiles of the Returnees indicates that 54 adult females, 7 children and 3 infant females were brought back.
Also 73 adult males including with medical cases, eight male children and seven infants male were among the batch.
International Organisation for Migration (IOM) and Nigeria Embassy in Libya collaborated to assist the stranded Nigerians back after their failed attempts to cross over the Mediterranean Sea into Europe.
The Director General was represented by Mrs Adenike OgunKunle, Chief Executive General Service.
Agencies on ground with NEMA were Nigeria Immigration Service, NAPTIP, Refugee Commission,, FAAN and Nigeria Police.