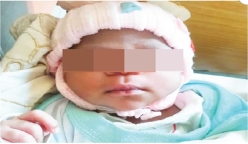 Community
New born baby abandoned by road side in Ikorodu
CITIZENS COMPASS – RESIDENTS and passersby on Monday, reigned curses on a yet-to-be identified mother who reportedly abandoned a day-old baby girl close to a church by the roadside in the Ikorodu Local Government Area of Lagos State.
A resident who was on her way to work was said to have observed the baby neatly wrapped with a shawl crying by the road side.
Time was 6.30am.
The resident, upon moving closer to the crying baby, observed that she was wearing long sleeve baby clothes, a cap and was wrapped in shawl. .
Surprised by the discovery, the resident raised the alarm to attract other persons in the area to the incident but when no one claimed the baby, the resident, while suspecting that the baby's mother abandoned her at the location at midnight, reported the case to the Ikorodu Police Division.
Contacted, the state Police Public Relations Officer, SP Benjamin Hundeyin, who confirmed the incident to our correspondent, said the baby was receiving treatment at the Ikorodu General Hospital.
He said, "Around 7am today (Monday), a resident came to the station and reported that on her way to a nearby provision store to buy bread around 6.30am, she heard the cry of a baby.
"She checked and saw a newborn girl wrapped and kept beside the road, close to a church. She called the attention of neighbours but nobody claimed the baby, so she reported at the station.
" The baby, believed to be one day old, has been taken from the scene, and sent to the Ikorodu General Hospital, for treatment. The Family Support Unit of the Ikorodu Division is conducting a preliminary investigation into the case."