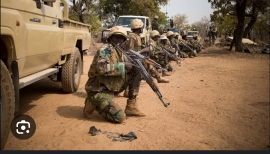 Politics
Niger coup: Tinubu opts for dialogue 
CITIZENS COMPASS – President of the Federal Republic of Nigeria, Bola Ahmed Tinubu has opted for a dialogue rather than applying force to settle political issues in the Niger Republic.
The President have also backed-out from the hardline stance of the Economic Community of West African States (ECOWAS) in restoring democratic governance in the Republic.
FTN reports that ECOWAS, which is chaired by Tinubu had last weekend issued a seven-day ultimatum to military leaders who overthrew the democratic elected government in Niger to return power to elected officials or risk the full wrath of the regional body, including the use of military force.
This was followed by a meeting of defence chiefs of ECOWAS in Abuja in preparation for the enforcement of no flight zone imposed on Niger and other military action, even as the coup leaders expressed readiness to defend the country from any external attack.
But in a statement signed by Ajuri Ngelale – Special Adviser to the President on Media and Publicity on Thursday, said Tinubu has dispatched an envoy to Niamey, and urged robust dialogue to end the impasse.
The statement reads: "The Chairman of the ECOWAS Authority of Heads of State and Government, President Bola Ahmed Tinubu, has dispatched a delegation to Niger Republic with a mandate to expeditiously resolve the current political impasse in the country.
The action was in line with the resolution reached at the end of the extraordinary summit of the ECOWAS held last weekend in Abuja.
The delegation, headed by former Nigerian Head of State, General Abdulsalami Abubakar (Rtd), left for Niamey on Thursday following a briefing by President Tinubu at the State House in Abuja.
The former Nigerian Head of State is joined in the delegation by the Sultan of Sokoto, Alhaji Muhammad Sa'ad Abubakar III and the President of the ECOWAS Commission, H.E. Omar Alieu Touray.
The President has also sent a separate delegation led by Ambassador Babagana Kingibe to engage with the leaders of Libya and Algeria on the Niger crisis.
Briefing the two delegations, President Tinubu charged them to engage all stakeholders robustly with a view to doing whatever it takes to ensure a conclusive and amicable resolution of the situation in Niger for the purposes of African peace and development rather than a move to adopt the geopolitical positions of other nations.
"We don't want to hold brief for anybody. Our concern is democracy and the peace of the region," the President said.
Speaking after the meeting, General Abdulsalami Abubakar (Rtd) said the delegation would meet the coup leaders in Niger to present the demands of the ECOWAS leadership.
Both leaders of the two missions expressed optimism on the outcome of the assignments.