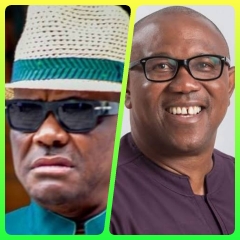 Politics
NLC draws battle line with Wike 
CITIZENS COMPASS – THE Nigerian Labour Congress (NLC) has drawn a battle line with the Minister of Federal Capital Territory, Nyesom Wike over the demolitions in the capital city, Abuja.
The NLC president Comrade Joe Ajaero in an interview described the demolitions which he said were mainly directed at the poor as akin to Hitler's tyranny.
Responding to questions during an interview on AIT, Comrade Ajaero said: "Shelter is among Maslow's hierarchy of needs and you go and demolish it and ask them to go to hell and your so-called master plan is in your pocket.
"Nobody knows where your master plan is. And you watch NLC draws battle line over Wike's demolition planin Abuja them, some of them use their retirement benefits to start foundation (and you demolish it), that will not continue," Ajaero
said.
Alleging a war by the Nigerian elites against the poor, Comrade Ajaero said that "Nigeria's political class should realise that the poor are suffering that
they can no longer breathe."
Noting the way that Wike has gone about the demolitions which the NLC president said has mostly affected the poor in Abuja, he said: "it is impoverishing the masses and it is done with a level of impunity similar to Hitler's tyranny in Germany. 
That should not continue because it is affecting more workers. If you check the people whose houses are being demolished it is that class of people
that you have not provided houses for."
Nigeria's disposition to welfarism is gone even when it is
provided for in the Constitution.
Nobody cares for your transportation, you generate your water, your electricity, you pay your children's school fees, no hospitals. Even when workers
contribute money for housing policies, it is being diverted.
So, this war cannot continue," the NLC president said in vowing to put a stop to the demolitions allegedly orchestrated by Wike that affect the working class in
Abuja.