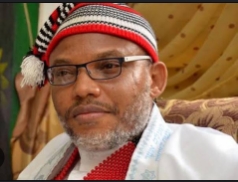 CITIZENS COMPASS – THE leader of the Indigenous People of Biafra (IPOB) Mazi Nnamdi Kanu has formally ordered an end to the sit-at-home being observed on Mondays in the South East.
He gave the order on Friday, July 28, 2023. 
Recall that the Sit-at-home began in the South East in 2021 following the detention of Kanu at the custody of the DSS after he was arrested and forcefully brought to Nigeria in an operation carried out by a combined team of Kenyan and Nigerian security apparatuses.
Although IPOB had cancelled the order, a faction led by Simon Ekpa has persistently declared sit-at-home on Mondays as well as other days they choose, with a high level of compliance by the locals.
Kanu declared an end to the order during a world-press conference addressed on his behalf by his special counsel, Barr Aloy Ejimakor, held in Enugu on Friday afternoon.
Kanu maintained that he formed IPOB to protect Ndigbo and oppressed minorities of the East, hence 'the need to end the sit-at-home which is destroying the economy of the same people' he is protecting.
Kanu also warned Ekpa to desist from countering his orders, as well as denigrating Igbo leaders and Ohanaeze Ndigbo in their quest to restore business activities which have dwindled n the East as a result of the sit-at-home.
However, Simon Ekpa in one of hos tweets said there was no such order from Kanu..