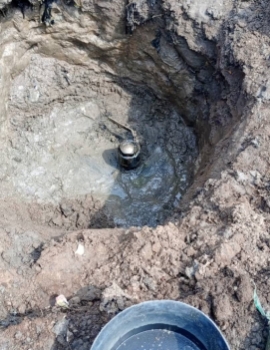 Community
NNPC pipeline ruptures, leaks in Lagos 
... LASEMA allays fear
By Bose Adelaja 
CITIZENS COMPASS —There was panic in the Ikotun area of Lagos State, following a ruptured pipe at the Nigerian National Petroleum Corporation (NNPC)pipeline which leaked its content into the Neighbourhood. 
The incident occurred at Adebari Odutoye Street in Ikotun.
However, the fear was allayed due to prompt arrival of emergency responders who cautioned residents to avoid naked fire until normalcy was restored. 
Citizens Compass gathered that it took a number of hours for the engineering team from NNPC to locate the ruptured pipe and salvage the situation. 
In his Situation Room report, the Permanent Secretary, Lagos State Emergency Management Agency (LASEMA), Dr. Olufemi Damilola Oke-Osanyintolu said there was no loss of life or injury. He said, "Upon arrival at the incident scene, It was discovered that an NNPC underground pipe along the axis was found leaking its content (PMS).
" The Immediate cause of the leakage could not be ascertain as at the time of  this report,
"Effort to stop the leakage is ongoing by the technical crew from NNPC, digging  of the area to ascertain the particular spot of the leakage is ongoing. 
No loss of life nor casualties was recorded as at time of this report
Agency responders. Lagos State Fire Service, NNPC maintenance / technical crew and the Nigerian Police are Agencies present at the scene of the incident. 
"Repair Operation ongoing, while the situation is under control.
" Members of the public are cautioned to proceed with extreme caution in and around the area to prevent any form of explosion or ignition from naked flame or other activity. 
" We will continue to provide updates." 
At about 6.19p.m, he said," Situation Report regarding a damaged pipeline at Adebari Odutoye Street
 *Update on the burst pipeline" 
"The technical crew of the NNPC has been able to locate and subsequently sealed the leakage, operation concluded.
" Members of the public should still maintain common sense precautions and not hesitate to contact the emergency services if any other issue is encountered."