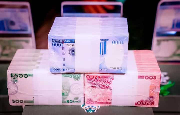 CITIZENS COMPASS-:BARELY seven days after President Muhammadu Buhari promised to look into the Naira crunch crisis,  the Governor, Central Bank of Nigeria (CBN), Godwin Emefiele, says that the apex bank does not have the capacity to print adequate new naira notes.
Recall that President Muhammadu Buhari had promised to resolve the issue of the scarcity of Naira which has brought untold suffering to many Nigerians.
Emefiele said this on Friday, February 11, 2023, when he briefed the emergency meeting of the National Council of State according to sources who attended the meeting.
"On Friday, Mr. Emefiele told the leaders that the Nigerian Security Printing and Minting Plc (The Mint), suffers capacity constraints, resulting in the failure to print adequate new notes to replace the old N200, N500, and 1,000 notes.
"The Mint has run out of papers to print N500 and 1,000 notes. They have placed orders with a German firm and De La Rue of the UK (for papers) but they have been placed on a long waiting list, so their orders cannot be met now.
"The Mint had received CBN's request to print 70million copies of the new notes, totalling N126billion to be pumped into circulation by today (yesterday), The Mint doesn't have the capacity,"
Meanwhile, seven days after President Muhammadu Buhari promised to address the cash crisis that hit the country following the naira redesign and old notes swap policy of the Central Bank of Nigeria (CBN), the new and old naira notes have remained elusive.
Last December, the Godwin Emefiele-led CBN introduced the new notes amid efforts to fight corruption, terrorism, counterfeiting, and related crimes, with a January 31, 2023 deadline.
However, Nigerians have had a hard time getting the new notes amid scarcity and rising tension across the country, forcing the apex bank to extend the deadline by 10 days, which was due yesterday, February 10.
President Buhari had on February 3 implored Nigerians to give him seven days to resolve the cash crunch problem.
–Premium Times