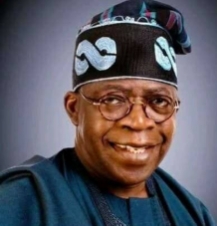 Politics
Nothing can stop Tinubu's inauguration – Ndoma-Egba
CITIZENS COMPASS – A legal luminary and ex-Senate Leader, Victor Ndoma-Egba, has said that the inauguration of Asiwaju Bola Ahmed Tinubu as President of the Federal Republic of Nigeria on May 29, 2023 remains sacrosanct and therefore cannot be changed.  
Ndoma-Egba, a former Chairman of Niger Delta Development Commission (NDDC), stated this in an interview in reaction to the calls by some persons for the suspension of the inauguration of the President-elect, pending the conclusion of the cases filed at the tribunal against his victory in the presidential election.
The Senior Advocate of Nigeria, SAN, wondered why people should be making such a call that has no basis in the country's Constitution.
His words: "There is no constitutional basis for delaying or stopping the swearing-in of Senator Bola Ahmed Tinubu as President on the 29th of May 2023. First, if it is on the basis of the cases in court. The constitution is very, very clear on how much time the tribunals have. I think it is 180 days. So the Constitution has already provided for that. You cannot now say that where there is a constitutional provision for the determination of those cases, you should short-circuit that provision.
"Secondly, the term of the President is specific. It expires on a particular day. So if you don't swear in Bola Ahmed Tinubu on that day, what happens? It means that you are going to have a country without a president and that is a recipe for chaos and disaster. So the constitution is very clear. The cases will be dispensed with. It is not the first time. In 1999, President Obasanjo took over while the cases were in court. In 2007, President Yar'Adua took over power while the cases were in court. So we are not reinventing the wheel. I don't see anything stopping the swearing-in of Bola Ahmed Tinubu on the 29th of May 2023.
"And those who are making calls to the contrary are making calls that have no constitutional basis. They are calls that cannot be justified by any provision of our Constitution. They are asking for an extra-constitutional arrangement which is akin to asking for a coup. Any arrangement that you ask for that is outside the constitutional provision is extra-constitutional and it is the equivalent of a coup. Come May 29, 2023, we must come to terms with the fact that we have a new president because nothing can stop Tinubu's inauguration."
On the issue of interim government, he said: "Also, there is no provision in our Constitution for an interim government. It is not mentioned anywhere in our Constitution. It is not conceived anywhere in our Constitution. It is not contemplated anywhere in our Constitution. It is not provided for anywhere in our Constitution. So on what basis, on what constitutional grounds will it be standing? The Constitution proclaims itself as supreme. So there is no constitutional justification for all these calls they are making."
The ex-parliamentarian expressed optimism that things will be better in the incoming administration of Bola Ahmed Tinubu.
According to him, "We are moving into the new dispensation with renewed hope, which is the mantra of the incoming President, that things will get better, that Nigerians will feel better in every aspect of their national life. Whether it is security, economy or opportunities. And that we will begin to feel like Nigerians once again. That we will have a country where tribe nor religion will not make any difference. Therefore, as we go into the new dispensation, we do so with that natural tendency of having renewed hope."