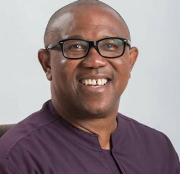 Politics
Obi speaks on "bleeding to death over mandate"
CITIZENS COMPASS– LABOUR Party (LP), Presidential Candidate, Mr. Peter Obi, has dismissed the fake reports about fighting or bleeding to death over the election.
He spoke on Friday, March 10, 2023, through his Media Adviser, Mr. Valentine Obienyem.
The presidential candidate called on the "Obidient" family to remain calm, prayerful and alert to the events in the country as he
Obi urged Nigerians to ignore the news being circulated where he was quoted as saying that he never lost an election; that he would fight and "bleed to death until" his mandate is restored; that he would drag "INEC until there will be no life left in them"; that he was "looking forward to jailing all that partook in this scam and fraud called election", among others.
Obi said the news was false, mischievous, misleading and out of character.
He said as far as he believed that the election was gravely flawed, as being attested to by everybody, that was part of the process, he said he would continue to pursue the recovery of the stolen mandate through the legal process.
"I have worked through similar paths in the past and was successful. I shall follow the same path without endangering the relative peace in the country, which is actually what those election riggers are striving desperately to upset," Obi said in clarifying the reports about fighting to death.