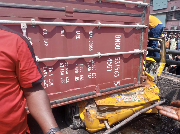 CITIZENS COMPASS– LAGOS State Government has directed the prosecution of the owner and driver of the ill-fated truck which crushed nine persons to death at Ojuelegba on Sunday. January 29, 2023.
The government gave some of the names of victims who lost their lives to the incident, as Miss Blessing Isioma,
Abdurahman Okoya Sunday "M"
Felix John Ifeanyi "M" 40year and
Olatokunbo Basirat King "F' 49years.
The state government in a statement signed by Gbenga Omotoso, Commissioner, Information & Strategy, disclosed this on Monday.
He said the state government commiserates with the affected families.
The statement reads, "Governor Babajide Sanwo-Olu, after receiving an interim report of the incident, has directed the police to speed up their investigation of the matter. Besides, he has given the following directives:
"The driver of the truck and the owner, who are in police custody, must be prosecuted; Ministry of Transportation and Nigeria Ports Authority (NPA) should meet urgently to find a lasting solution to the menace of falling trucks; and
All the laws governing the operations of trucks and related vehicles must be enforced with more vigour and diligence.
"The incident of 29th January, 2023 is one too many and it shows the irresponsibility of owners and drivers of such articulated vehicles who under the law should care for other road users.
"The Lagos State Government has zero tolerance for large containers that fall off trucks and injure or kill citizens, who are going about their lawful businesses. The driver (Sodiq Okanlawon) and owner (Wasiu Lekan) of a container which killed three (3) people on the 26th July, 2020 on Oshodi/Apapa Expressway, Ilasamaja were prosecuted and convicted on the 28th February, 2022 and sentenced to life imprisonment by Hon. Justice Okikiolu Ighile.
"The State Government will, in a similar manner, ensure that the driver and the owner of the truck involved in the January 29th incident are put on trial for the needless death of our dear citizens.
"This, we hope, will send a strong message to all those who have no regard for other people's lives that Lagos will not condone their recklessness. They must be stopped, with the strong backing of our laws, because their actions offend our avowed commitment to safety and decency. ""