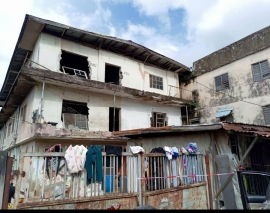 Community
One injured, many homeless as buildings collapse in Lagos 
CITIZENS COMPASS —A male occupant of a storey building was reportedly injured while many people were rendered homeless in the Kosofe area of Lagos over the weekend when two storey buildings reportedly caved in, in the area. 
Itt was learnt the buildings with over the 50 rooms were formerly a school bbut were converted to residential before they caved in on weekend.
According to eyewitnesses' accounts, the collapse was due to aging and lack of maintenance of the buildings when the staircase of the buildings caved in at day time. 
Confirming the incident to Citizens Compass on Sunday evening, the Permanent Secretary, Lagos State Emergency Management Agency (LASEMA), Dr Olufemi Damilola Oke-Osanyintolu said no life was lost. 
In his updates, he said, "Upon arrival of the Agency's responders at the incident scene, a 2-storey building and a 4-storey building situated beside each other was found to have collapsed at the aforementioned address. 
" Investigation conducted by the LRT revealed that the collapse could be attributed to aging and poor maintenance on the part of the owner.
" Further investigation revealed that the staircase of the building caved in. 
Unfortunately, a male adult fell due to the impact of the collapse from the topmost floor, and has been taken to the hospital. 
Many rendered homeless 
" Residents of the building have been asked to vacate the building under the supervision of the combined team of LASEMA, RRS, LABSCA and LNSC, in order to avert further secondary incidents.
" However, the said building will be pulled down as it has failed structural integrity test as confirmed by LABSCA official at the scene, hence posing a threat to the  public and adjoining buildings. 
" The Agency's response team/paramedics, RRS, LABSCA and LNSC are on ground at the incident scene working together to salvage the situation." 
Lagos State Coordinator, National Emergency Management Agency(NEMA), Ibrahim Farinloye said of the incident, "It was a partial collapse
At Agboye Estate in Oduntan Street, Ketu.
" 2 people had injuries and responding to treatment
It was a school turned residential housing more that 500 rooms.
It partially caved-in yesterday afternoon.
"NEMA was not there due to minor nature of the incident.
It was alleged to be around 500 to 700 rooms"