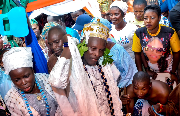 Community
Ora Kankan Nla Irawo gets first Baale
CITIZENS COMPASS– PRINCE Akeem Ogunjobi has been capped as the first Baale of Ora Kankan Nla, Irawo Agboyi Land, Agboyi Ketu Local Council Development Authority (LCDA) in Kosofe Local Government Area of Lagos State.
HRM, Oba (Engr.) Monsuru Abimbola Oladega, the Olu of Agboyi Kingdom and Traditional Head of Agboyi Kingdom, Agboyi-Ketu LCDA, capped the Baale as part of the programmes to mark the monarch's second anniversary of his coronation, which was held recently.
Prince Ogunjobi was capped alongside other Baales such as Baale Ajewole and Baale Oko Aro.
Speaking at the occasion, Oba Oladega advised the new Baales to be progressive leaders and good ambassadors of Agboyi Land.
Responding, the new Baales assured Oba Oladega of their loyalty to the stool of Olu Agboyi and commitment to the development of their respective domains, even as they also promised to carry their community along in their decisions and actions.
The Abore of Agboyi, Chief Ajibayo Adebisi, offered the rites (Itose Oye) for the new Baales according to custom and tradition of Agboyi Land.
What I will do differently – Ogunjobi
Speaking with Citizens Compass, Prince Ogunjobi said he will use everything at his disposal to transform his jurisdiction.
He said:
"I have alot of tasks ahead being the first Baale of my community. The community is a developing one which still needs a lot of work to make it grow.
"The first thing I will do is to build on the existing relationship with stakeholders in the community.
"I am happy that many intellectuals reside in the community. So, I should be able to manage both capital and human resources to achieve my goal.
"As for the experience, I was the head of my family for over ten years and this has given me enough experience to manage the community. I feel honoured to be installed as the first Baale of the community."