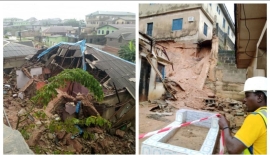 Community
Children trapped to death as wall collapses on building in Ikorodu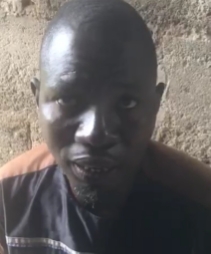 By Bose Adelaja 
CITIZENS COMPASS – TWO siblings were trapped to death on Saturday, July 22, 2023, in Isawo, Ikorodu, Lagos State after the wall of a hotel collapsed on a neighbouring building killing the children on the spot.
The incident occurred at Number 25, Ajao Street, CWC, by Olainukan Busstop, Ishawo, Ikorodu at about 11. 30a.m on Saturday, July 22, 2023. 
A sympathiser raised the alarm thst attracted emergency respondees to the venue of the partially collapsed building. 
It was gsthered that before the arrival of emergency responders, sympsthisers rushed to the scene to manually rescue the children but this did not yield positive results until the emergency responders moved to the scene with rescue equipments. 
However, the bodies of the children, Rakib Atolagbe, 7 years and Mujib Atolagbe 9 years were recovered. 
The incident occurred diring a downpour that sacked some parts of Lagos. 
Lagos State Territorial Coordinator, National Emergency Management Agency (NEMA), Ibrahim Farinloye confirmed the incident in a statement. 
"This is to confirm the recovery of 2 children that were trapped in a partial building that collapsed at about 11: 30 a. m. this morning (Saturday) at 25, Ajao Street, CWC, by Olainukan Busstop, Ishawo, Ikorodu.
" The Children Rakib Atolagbe, 9 years and Mujib Atolagbe 7 years were trapped when fence from the neighbouring house fell on their building during the downpour.
" It was very unfortunate that distressed call were not properly channeled to thoae whose responsibility was to save the life of their children at the right time.
" The Lagos State Building Control Agency (LASBCA) are presently on ground to assess the situation.
" May almighty forgive the deceased and console the parents."
Speaking with journalists, the bereaved father, Ahmed Atolagbe said he received a distress call shortly after he left home for shop. 
According to him,
I left home to find what to eat. Shortly, I received a distress call that something was happening at home and I rushed there only to discover that the wall of a neighbouring  hotel had collapsed on our house killing my two children before my arrival." 
At press time, the scene has been cordoned off. . 
Also confirming the incident, the Permanent Secretary, Lagos State Emergency Management Agency (LASEMA), Dr Oluwafemi Oke-Osanyintolu said,"
"Upon arrival at the incident scene, a single storey building (Hotel fence) at No 38, Community was found to have collapsed on a three bed room flat (Bungalow) at no 25 Alao street behind the hotel.
" Further investigation revealed that the said building fence was weakened by poor drainage resulting in its collapse on the house No 25 Alao street.
" Two young boys aged Seven years and Nine years old boy named Gbolahan and Yinka Atolagbe lost their lives. They have since been buried according to Muslim rites.
" The Agency's LRT, Lagos State Fire Service, LNSC, LABCA and the Community Excos are the responders at the incident scene.
" The building has been cordoned off by the Agency's LRT to avoid secondary incident and handed over to LABCA.
"Operation concluded, LRT heading back to base."