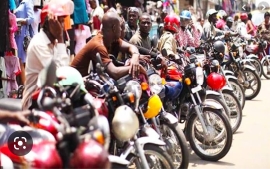 CITIZENS COMPASS – A Police Inspector, was reportedly killed while a Divisional Police Officer (DPO) was seriously injured, on Wednesday, April 5, 2023, in Lagos, following an attack by some commercial motorcycles popularlly known as Okada riders.
The incident occurred in the afternoon at Cele Expressway, along the Apapa-Oshodi Expressway in Lagos State.
The Lagos State Police Command Public Relations Officer, Benjamin Hundeyin, confirmed the incident in his tweets. 
According to him, the policemen were attacked while enforcing the ban on Okada in some local governments and their development areas in the state. 
However, this went sour at Cele Expressway as the irate riders launched an attack. 
Hundeyin said two suspects are already in Police net in connection with the matter while a total of 41 motorcycles were impounded. 
For some time, Okada riders have been operating freely from Cele Expressway to Second Rainbow using the ongoing road construction in the area as an excuse. 
"While enforcing the existing ban on the use of motorcycles in parts of Lagos State, Police Officers of Isolo Division came under attack from motorcycle riders at Cele bus-stop, resulting in the death of one Police Inspector & serious injury to the Divisional Police Officer.
Two suspects have been arrested while forty-one motorcycles were impounded. The Lagos State Police Command will not be deterred from carrying out its mandate of enforcing duly established laws.
"Citizens are urged to remain law-abiding, as riders and passengers alike arrested on prohibited routes will face the law. Above all, any form of attack on Police Officers will no longer be tolerated!" he tweeted