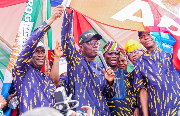 Community
Over 4,000 CDAs endorse Sanwo-Olu for 2nd term as Lagos Celebrates Community Day
CITIZENS COMPASS – OVER 4,000 Community Development Associations (CDAs) drawn from 20 local governments and 37 local council development areas of Lagos State, have endorsed the state Governor, Babajide Sanwo-Olu and deputy, Obafemi Hamzat for second term in office.
The Governor is seeking re-election under the umbrella of the All Progressives Congress (APC), in the state.
The endorsement took place on Thursday, January 19, 2023, at Police College, Ikeja, amid State Executive Council (SEC), Community Development Committees (CDCs), White Cap Chiefs and traditional rulers among others during the 2022 Community Day Celebration with theme, "Strengthening Community Engagement for inclusive Governance".
Leading the endorsement team was Alhaji Azees Amusat, Chairman, Lagos State Community Development Advisory Council (LSCDAC) flanked by CDAs and CDCs leaders in the state.
Amusat gave reasons for the endorsement as an avenue for the Governor to complete the various projects kick started during his first regime.
According to him, the Governor has embarked upon projects including infrastructure and many more.
Amusat said the CDAs are over 4,000 in number.
,
In his Keynote address, the Governor appreciated the CDAs saying the endorsement will encourage him to do more if elected into office.
He described the CDA members as vibrant supporters of his administration, " All of you that are vibrant supporters of our government: the CDAs and CDCs in Lagos State."
He said the occasion provides opportunity to acknowledge the roles of the CDAs, "As we celebrate an annual Community Day, this occasion avails us opportunity to reflect and more importantly acknowledge your roles and efforts by supporting all our government interventions and how you kept your community well, able and the impact that comes with governance knowing fully well that you are an important arm of our community,"
"This year's celebration with theme Strengthening Community Engagement for inclusive Governance," is an attestation of a commitment that reveals that indeed, the dividends of democracy reaches the nooks and crannies of the state.
"We cannot undermine the very critical role that CDCs and CDAs play in the governance and economic development of our communities, hence, the need to continuously engage and strengthen you to ensure that you continue to participate in governance.
"This by extension includes giving support and creating support system to enhance your continuous growth and development in our various communities.
"Let me emphatically state that the inauguration of the current executive of CDC and advisory council in March 2020, it has yielded positive result.
"This advisory council has not only yielded positive results, they have been trusted as they come up with various ideas and advice for government at all times.
"We want to thank your leadership and acknowledge your resilience for being with us.
"I want to acknowledge your endorsement of our government today, as an attestation and confirmation of your partnership that is working and we will not take it for granted.
"We need to do a lot more by ensuring that the confidence reposed in us is not put to shame. " He added.
Earlier in his welcome address, Mr Bolaji Robert, Special Adviser to Mr Governor on Local Government and Community Affairs, commended the community associations for being an integral part of the administration.
"They have proven their support as development partners to the state hence there will be prizes and award categories for the communities that have voluntarily executed some projects "
The occasion witnessed display of culture while the Nigeria Police Band entertained the attendees.
There was presentation of prices to the Best four community development associations as well as consolation prizes plaques and certificates.
The event was packaged by the state government through the Ministry of Local Government and Community Affairs.
Vote of Thanks was by Mrs Kikelomo Bolarinwa, Permanent Secretary, Ministry of Local Government and Community Affairs.
Community Day in Lagos is an annual event where the State Government awards the best four CDAs with exemplary records of achievements would go home with four 18-Seater Buses, and cash rewards as a token to steer healthy participation among all communities.
Chief Rotimi Williams CDA, in Ifako Ijaiye Local Government Area was named the Most Outstanding CDA in Lagos, winning a brand new 18-seater bus.
Other winners are: Hilltop CDA In Agbado Oke-Odo LCDA (first runner-up), and Gateway Zone Community Development in Ikosi Isheri LCDA (second runner-up)
Ilupeju Community III CDA in Ojo Local Government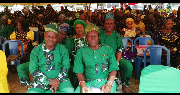 Area won the Best Rural Community.