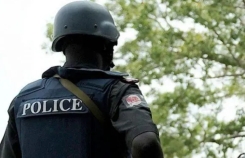 Community
Pastor sets woman ablaze during deliverance prayer 
CITIZENS COMPASS —A cleric with Cherubim and Seraphim (C&S), Maberu Parish in Offin, Sagamu, Ogun State, Taiwo Odebiyi, has reportedly set a 21-year-old woman ablaze while conducting deliverance on her. 
The woman, identified as Sukura Owodunni, was said to have suffered severe burns following the incident which occurred on Thursday, August 17, when the victim, Owodunni, visited the church in response to a special prayer invitation from the pastor.
According to eyewitnesses' accounts, Odebiyi had instructed Owodunni to acquire Amazing Grace perfume, local eggs, and a candle for the designated prayer session unfortunately things did not go as planned. 
It was learnt that during the prayer, the cleric purportedly applied the perfume to the woman's body and lit the candle.
Few minutes after the candle was lit, Owodunni reportedly caught fire, sustaining severe burns on her chest, shoulders, and legs.
Following the incident, the Divisional Police Officer (DPO) in Adigbe apprehended the pastor within the church premises.
Confirming the incident, spokesperson, Ogun State Police Command, SP Omolola Odutola, said an in-depth investigation has been initiated to uncover the circumstances surrounding the case.
She said the victim had been taken to a medical facility for treatment but claimed that she was left to pay for her own medical costs.
"Our men have arrested the suspect. The case will be transferred to the State Criminal Investigation Department after the preliminary investigation is perfected," Odutola added.