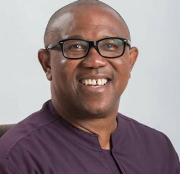 CITIZENS COMPASS – THE presidential candidate of the Labour Party (LP)Peter Obi has assured Muslims faithful that they are free to live and carry out their business in any part of the country as Nigeria belongs to everyone, irrespective of religion or tribe.
He said this on Sunday, April April 23, 2022, while addressing them at the Central Mosque, Onitsha during his Salah visit to them. 
He assured them that nobody would give them any problem in Onitsha.
Peter Obii recalled that when he became governor of Anambra State in 2006, the Onitsha Central Mosque was demolished and he rebuilt it, adding that he would also modernize it to ensure that people worship in a conducive atmosphere.
He said: "As Nigerians, you're free to live anywhere. I'm living with you here in Onitsha and if anyone disturbs you, inform me, but I'm sure nobody will disturb you.
Nigerians are free to live anywhere in their country without discrimination and here in Onitsha, you are free to carry out your businesses without molestation.
"I am a Nigerian who truly believes in Nigeria. I have never discriminated against anybody on the basis of religion or tribe and I will never do that.
"Recall that when you had problem when I was governor, I visited you at the Army Barracks where you were staying for safety and attended to your needs.
"As your neighbour in Onitsha, I will continue to support the Moslem community in the area of education, health and ensure freedom of worship.
"Do not mind all the negative campaigns that Peter Obi does not like the North or South or East because it is not true. When I was governor, I never treated any Moslem as if I do not like him. My ADC as governor was a Moslem and a Moslem is running my business. I also have a lot of friends in the north."
The secretary of Arewa Community in Anambra State, Mahmud Imam said they would never forget how Peter Obi assisted them during their difficult times, noting that it was for that reason that the Moslem community in Anambra State supported and voted overwhelmingly for him during the last presidential election.
He said: "You became a governor at a time we were in a very difficult situation in Anambra State in 2006 and you showed love to us.
"Apart from rebuilding our Mosque, you were sponsoring many Moslem to pilgrimage to Mecca. You also brought the Sultan of Sokoto to Anambra State and throughout your tenure as governor, you were celebrating Salah with us at the Governor's Lodge."
He informed Obi that the Moslem community will continue to support the Obidient Movement which he said, "has come to stay throughout Nigeria".