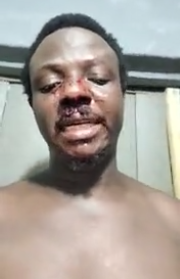 CITIZENS COMPASS– LAGOS State Police Command has commenced "indepth – investigations over the alleged abduction a man who released a viral video narrating how he was abducted by some criminal element in the state.
SP Benjamin Hundeyin, the Command's Spokesperson who disclosed this in a tweet, said the Command will explore necessary avenues to unravel this.
"The Lagos State Police Command is not unaware of the video making the rounds about the presence of some criminals in the Lekki area of Lagos.
"In-depth investigation has commenced. The Command will leave no stone unturned towards ensuring the safety and security of all residents and visitors to Lagos State.
"All human, material and operational resources have been duly and optimally deployed to achieve this.
"We appreciate Lagosians for always saying something when they see something. We encourage more of this. Together, we'll keep Lagos State safe for all and sundry."
The video revealed a trumatised skating coach who boarded a bus from Lekki enroute Iyana-Oworo after the close of work
"As I got onto a bus that called [for] Iyana-Oworo, I noticed that there was this weird smell in the bus. And anybody who has been involved in any training military or settings would know about gases that knock people off," he said.
"So I knew that's what it was. I spat in my handkerchief and used it to cover my nose.
"In about five or ten minutes, every other occupant of the vehicle were all asleep aside from the team members who had all brought nose masks coincidentally to cover their nose."
He said the supposed leader of the kidnappers confronted him for not sleeping, confirming his suspicion.
The skater said he started pleading with the supposed driver to take his Galaxy phone, necklace and other personal effects worth Millions of Naira which they rejected and veered off the major road and stopped over under the Adeniji -Adele bridge with the intention to kill him but this was unsuccessful.
He said with the aid of a jack knife, he wounded one of his abductors and this scared the gang and they all decided to shelve the idea of killing him.
The tweet by the Spokesperson had been attracting comments from Tweeter users.
One of them, Isaa Red card tweeted, "Well done! Good job. They've really penetrated into the heart of Lagos. I'm sure you've seen some videos making their rounds. All hands MUST be on d3ck. Ppl MUST learn to be aware of their surroundings just like they do abroad so dat they cn give detailed accounts wen approached."