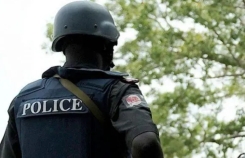 Community
Prophet impregnates landlord's wife
CITIZENS COMPASS —THE Ondo State Police Command has arrested one Prophet Oluwaseun Akinnubi, Founder, Christ the Helper Foundation Ministry, Ore, Odigbo local government area, for allegedly impregnating his landlord's wife. 
A source at the Ore Police Division confirmed that the pastor was in police custody while investigation into the matter has commenced. 
An unconfirmed report said the woman identified as Mama Precious was hypnotized by the preacher. 
A source says that Tubosun, the landlord, and his wife took care of Akinnubi when he had nowhere to stay. 
The prophet was said to have hypnotised the man and slept with his wife, a mother of four, under her husband's roof before he was arrested by the Ondo State Police Command in Ore. 
It was learnt that the landlord's brother went to the police station and filed a report.
Also, a source close to the landlord's family said that the prophet was picked up during the naming ceremony of the baby. 
The source also said, "After getting the woman pregnant, the prophet rented another apartment and moved her out of her husband's house."
After Mama Precious gave birth, her neighbors were surprised to see that her husband was going to the prophet's new home to wash clothes for his separated wife and the new baby.
"His younger brother and a neighbor named Tubosun told him that the preacher had taken over his wife, but he didn't care. Instead, he kept going back to the place to wash the clothes of his wife and their baby. He used to clean the house as well.
"At that point, we knew that the prophet had already hypnotized Tubosun because of the way he was acting. We think he is no longer thinking straight."