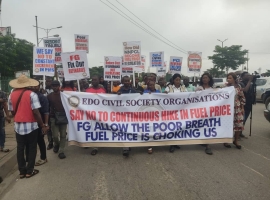 Community
Protest hits Benin over hike in fuel pric
CITIZENS COMPASS – A peaceful protest on Monday, July 24, 2023, hit Benin City, the capital of Edo State over the lingering hike in the price of Premium Motor Spirit (PMS), otherwise known as petrol. 
Thousands of protesters imcluding students, atrisans and human rights activists were said to have taken to the streets to to participate in the protest. 
Organized by concerned citizens and activists, the demonstration aims to draw attention to the growing hardship faced by the poor and vulnerable due to the continuous hike in fuel prices.
The atmosphere was charged with emotion as protesters bore placards with various inscriptions such as "Say no to continuous hike in fuel price," "FG, allow the poor breath," and "Fuel price is choking us." The images of the rally posted on Twitter by Ijeoma Osamor of AIT quickly went viral, attracting solidarity from people across the nation.
The impact of this anti-fuel hike protest is reverberating far beyond Benin and Edo State as it is sparking discussions nationwide about the pressing need for a sustainable solution to the fuel price hike.
The fight for economic justice continued as citizens and activists resolved to hold the government accountable for its promises. Only time will tell whether this collective outcry can yield the relief that the poor and vulnerable desperately seek – a chance to breathe freely amidst the storm of escalating fuel prices.