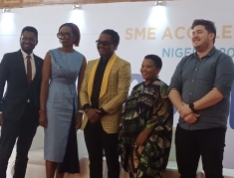 Business
Relief for SMEs' owners as Ayoba, Adanian Labs launch Accelerator Business App in Nigeria
CITIZENS COMPASS – OWNERS of Small and Medium-sized Enterprises (SMEs) in the country will now heave a sigh of relief as Ayoba in collaboration with Adanian Labs have launched SMEs Accelerator Programme 2023 in Nigeria.
The programme which was launched at the Oriental Hotel in Victoria Island, Lagos, on Monday, July 10, 2023, is aimed at grooming small businesses to deliver relevant contents and unique communication experience during a business transaction.
Also, it will address the key challenges such as limited access to capital, access to technology, market and mentorship.
Speaking at the official launching of the programme, Head of Ecosystem Financing, Ayoba, Sheila Yabo, said: "We are investing our resources to ensure that African entrepreneurs thrive. If you are a small business owner who wants to grow, you are qualified for the accelerator programme.
"We are looking for people who have great potential to thrive and make an impact by solving problems through unique products and services. You need to tell us what makes you unique. If you have a business and you know that you are solving a problem, you are the type we are looking for.
"We are intentional about providing a space for entrepreneurs to thrive without having to worry about office space, the accelerator programme will provide you with mentorship, grow capacity, and promote reasonable partnerships for businesses."
In his address, Country Head, Adanian Labs, Killian Mayua, said: "What we envisage is that more Nigerian SMEs will embrace basic technologies,
I'm not talking about rocket science, but basic ones that could turn your business around, because things have changed.
"Centuries ago. It used to be Trade by Barter, but today, it is connecting people via platforms and technologies to help your business initiatives. So why not connect businesses through Ayoba.
"We are giving Nigerian small businesses opportunities of a one stop shop for at least 90% of their problems, whereby they connect with partners and other businesses."
He said the SMEs drive the economy, but they are currently being faced by a myriad of challenges that require immediate solution, hence Ayoba is coming in with a technology that can be leveraged across various sectors.
Head of Business Development, Ayoba Davide Grahim, said the app could be used data-free by MTN subscribers.
"Our users are now close to 30 million monthly and we have seven million active users in Nigeria who can actually interact with businesses data-free even if they don't have any money on their phone," he said.
Grahim said the app serves everyone irrespective of size of business, sector or location.
Financial expert, representing SME Banking at Fidelity Bank, Adetola Shojirin, said the app created a platform for the bank to fund SMEs.
"It allows us as a bank to fund small businesses. We can come into play by providing quick loans. Some businessmen that display their products on Ayoba can be offered loans to expand their businesses. The platform gives Fidelity Bank leverage to help small businesses to grow," he said.
The organisers said the programme is currently open for registration and would run for three months.
However, they said subscribers can still enjoy its special features by joining the Ayoba app to aid the growth of small businesses in Nigeria and beyond.
Ayoba is an innovative all-in-one app revolutionising communication, entertainment & e-commerce in Africa and its strategic partnership.
The app is expected to boost SMEs" operations in Nigeria and the African continent.