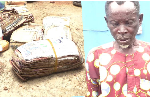 CITIZENS COMPASS– RESIDENTS of Abule Egba, Agbado-Oke- Odo Local Council Development Area, Lagos State, have exposed a beggar found to be with the sum of N500,000.
The incident occured on Wednesday, at Arilesola area which led to the elderly man to escape being lynched.
Problem started when the beggar, Festus Dia, was said to have approached some persons for alms, specifically demanding the sum of N50 and insisting on the said sum even from people who wanted to give him higher denominations.
But his insistence on the sum of N50 was said to have aroused the curiosity of residents following which they decided to interrogate and search him.
They were said to have found the sum of N500,000 stashed in bales. Some items suspected to be powdery charms and kolanuts were also found on him.
The discovery provoked the mob which attempted to lynch him before the intervention of a senior community leader.
Speaking with our correspondent, the embattled beggar, who claimed that he is an Ijaw man from Ondo State, said he was begging for alms in order to take care of his 10 children and buy some alcoholic drinks to sell.
He said: "My name is Festus Dia. I am Ijaw from Ondo State and I live in Ekoro area of Abule Egba. I have only spent eight days in this area.
sell native alcoholic drinks and I am also a beggar. I was begging for alms so I could buy more drinks from my customer at the Command area of Ipaja.
"The powdery substance found with me is a spiritual substance for my personal use. I have only made N4,800 from alms today."
A resident, who spoke in confidence, recalled how the beggar was intercepted and searched, saying: "We suddenly saw the elderly man in this community begging for alms.
"When he was asked why he was only asking for N50 even when people offered him a higher denomination he only said that he has about ten children.
"A number of people had given him N50 before I started engaging him. It was when he insisted on collecting only N50 that we decided to further subject him to questioning and when we searched him we found thousands of naira on him.
"When the Baale (traditional ruler) of this community arrived at the scene, he further questioned the man and it was during the period that another three bundles of cash hidden in his dress were uncovered.
You can see that the police just found three more bundles of cash hidden in his pant. The truth is that there is more to this man than just begging."
"What I want you to do is to ensure that the law enforcement agents do thorough investigation on this matter because the man had boasted that the police cannot punish him.
He even had the guts to demand a bottle of beer from us, boasting that there is nothing that we can do to him."
Another resident, who identified himself simply as Jamiu, said the man had also rejected an offer of food from a food vendor insisting on collecting N50 from the woman.
Jamiu said: "As he was being questioned by some youths in the community, a food vendor who came to join the crowd said she had earlier offered the man food when he approached her for alms at her stand but he rejected the free meal and insisted on N50, which she eventually gave to him."
A woman, Shakira Wahab, however, said the man is one of the many beggars going around the neighbourhoods to beg for N50, which they later resell at the nearby Ile Epo Market to some people who use the money for ritual purposes.
He has not told you the truth about what he uses all the N50 to do. Let me tell you, contrary to what he said while he was undergoing questioning earlier that he is using the money to buy ogogoro (local gin) to sell to people, the truth is that he is one of the many beggars who collect N50 from unsuspecting residents and in turn resell the money to people at Ile Epo Market for ritual purposes."
The beggar was whisked away by policemen from the Meiran Division before our correspondent left the community.
The traditional ruler of the community, Prince Taiwo Arilesola, said he had to rush home from his office to prevent the beggar from being lynched by a mob.
He said that he invited men of the Meiran Police Division to take the beggar into custody for proper investigation of the incident.
"I was told on the phone that a certain beggar was demanding only N50 from residents of this community and that when he was searched a huge sum was found on him hence I rushed down home.
–The Nation