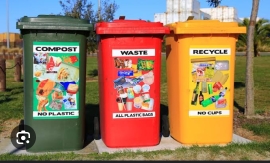 Community
Sallah: KAI charges residents on proper waste disposal
CITIZENS COMPASS – THE Lagos Environmental Sanitation Corps (LAGESC) popularly known  as KAI has enjoined residents to embrace proper waste disposal and maintain environmental cleanliness in their environs during and after the Sallah break. 
Corps Marshal, CP Gbemisola Akinpelu (retd) made this call at the Agency's Command Headquarters, Bolade-Oshodi. According to her, "the Sallah break is a significant festivity among Muslim faithfuls and it is resounding to emphasise that waste generated through the holidays must be properly disposed through  approved PSP operators in the State after due payment of waste bills".
Akinpelu further highlighted that the Agency's operatives will remain at respective duty posts across the State to ensure that environmental infractions are reduced to the barest minimum. 
Admonishing pedestrians on the proper use of strategically-erected pedestrian bridges across major highways in the State, the Corps Marshal sued for voluntary compliance, adding that it reduces the spate of 'hit and run' cases by over-speeding motorists. 
Also expressing displeasure at the increasing rate of alcohol sales at parks and garages in the State, the Corps Marshal avowed that the ongoing enforcement operation will be upheld in line with the State's renewed drive to reduce the root causes of motor accidents in Lagos. 
She finally read the riot act to street traders and hawkers to desist from displaying their wares for sale in traffic, road setbacks, lay-bys, pedestrian bridges, medians, kerbs, gutter slabs, stressing that street trading remains banned in Lagos State.