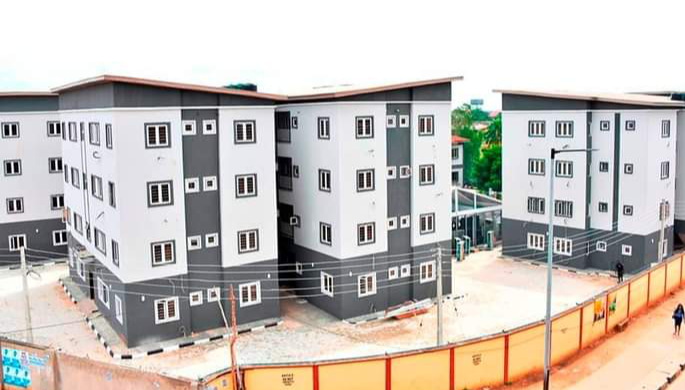 LAGOS State Governor, Bababjide Sanwo-Olu has presented apartment keys as resettlement compensation to 14 families displaced during the construction of the newly constructed Pen-Cinema Bridge in Agege area of the state.
The governor presented the apartment keys to the beneficiaries on Wednesday, at the unveiling of 'Greater Lagos LBIC Apartments' inside the existing Ijaye Housing Estate at Pen-Cinema.
The 'Greater Lagos LBIC Apartments' are four new buildings comprising 48 units of 2 and 3 bedroom flats, and four units of 4-bedroom maisonette, making 52 apartments in total.
Speaking on the occasion, he described the initiative as "a testament of our administration's commitment towards providing affordable housing for Lagosians."
Also, Sanwo-Olu opened the newly-built containerised modular classroom block in Vetland Junior Grammar School, Agege.
He described the event as a fulfilment of his promise to replicate facilities at the new Elemoro Comprehensive Junior Secondary School in Ibeju-Lekki, across all education districts in the state.
The containerised modular school building comprises nine regular classrooms, three laboratories and four staff rooms, all solar- powered. The pupils, 620 in all, also have the opportunity to learn remotely.
The old buildings were also demolished and the grounds developed into playground comprising sporting facilities.
Sanwo-Olu said: "Our goal is to build schools of the future, public schools that are driven."
According to him, "Our administration has opened about 16 housing estates and 4,000 apartments since inception in 2019.
Also, he awarded 13 exceptional teachers with car gifts yesterday.