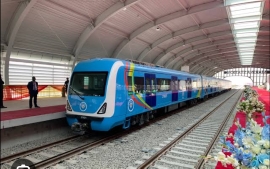 Transportation
Sanwo-Olu reduces fares by 50% as Lagos Blue Line Rail begins operation
CITIZENS COMPASS – THE Lagos State Government on Wednesday, said its Blue Line rail will commence commercial operations effective Monday September 4, 2023.
The service will run from from Marina to Mile 2.
This was disclosed by the Managing Director of Lagos Metropolitan Area Transport Authority (LAMATA), Engr. Abimbola Akinajo while fielding questions from newsmen. 
She told newsmen that Governor Babajide Sanwo-Olu would be the first passenger when operations commence.
According to her, the Governor would board the train at 9 a.m alongside other passengers, from Marina to Mile 2 train station.
Passengers will enjoy a 50 per cent discount on the planned fares for the full and zonal journeys.
The train will run from 6.30a. m till 10a. m during morning peak hours and 4p. m to 10p. m during afternoon and evening hours.
The Blue Line rail, which will move from Marina to Mile 2, is expected to move 250,000 passengers daily.
According to Akinajo, a full journey from Marina to Mile 2 will normally cost N750, while zonal fares will be between N400 and N500.
She said with the transportation palliative announced by the Governor in July, passengers will pay 50 per cent of the fares.
She explained that for the first four weeks the train will run only twelve trips with a locomotive system.
After one month, LAMATA will commence electric powered train operation with 76 trips, with an estimated passengers between 150,000 or 175,000, from 5.30am to 11pm on a daily basis.
The train will only stop for 90 seconds at each station, Akinajo added.
Former President Muhammadu Buhari, commissioned the first phase of the rail project in January
Buhari witnessed the signing of the contract for the second phase of the project between the Lagos State government and the Messrs China Civil Engineering Construction Corporation (CCECC), the contractor.
The first phase is 13-kilometer covering five stations, while the second phase is 14km, spanning from Mile 2 to Okokomaiko area of the state.
The project, which is being supervised by LAMATA, started in 2010 under the administration of Babatunde Fashola.
However, it was abandoned by the Ambode administration, before the current administration of Sanwo-Olu restarted it in 2019.
LAMATA had proposed seven lines in the network: Red, Blue, Green, Yellow, Purple, Brown and Orange.The Red Line is also being constructed by the government.