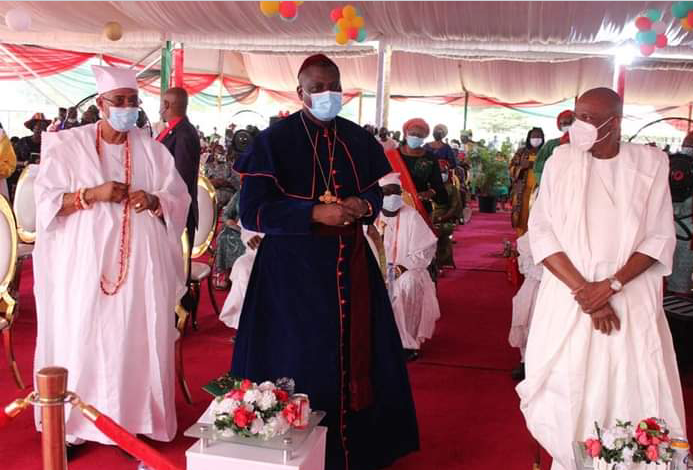 General News
Sanwo-Olu's wife preaches love, service to humanity at Christmas Carol
WIFE of Lagos State Governor, Dr. Ibijoke Sanwo-Olu on Thursday, urged Nigerians to imbibe the culture of love and service to humanity, saying that is the only way to ensure peace among all people.
The Governor's wife, who spoke at the 15th edition of the Christmas Carol of Nine Lessons held at the Lagos House, Alausa, Ikeja, said love and humanity are the basic ways to emulate the attributes of Jesus Christ, who is the essence of the Christmas season.
Her words: "Jesus came to the world so that mankind will not perish and there is no better way to demonstrate love other than this. I urge all Christians not to lose track of the essence of Christmas but should instead, imbibe and sustain the virtue of true love for each other".
"This is a time for us to be reminded of the need to imbibe and sustain true love for each other. This is the time to reach out to others. This is a season to commemorate the birth of our Lord Jesus Christ, the saviour of mankind. Jesus Christ is the reason for the season. He came to the world to die for our sins and connect us back to God. The birth signifies God's love for humanity as it is in John. 3:16", she said.
Earlier, Lagos State Commissioner for Home Affairs, Prince Anofiu Olanrewaju Elegushi, said the occasion was a way of celebrating the birth of Jesus Christ and giving thanks to God in Hymns and Psalms.
In his words: "The end of the year is a period of sober reflection, a time to take stock of all activities from the beginning of the year in order to express our gratitude to the Most High for His divine intervention in Lagos State".
Permanent Secretary, Ministry of Home Affairs, Mr. Sewedo Oluseyi Whenu, said Christmas is a season of love, peace and happiness, a period of spiritual rebirth, a period of reform to shed our inadequacies and strive to imbibe virtuous habits.