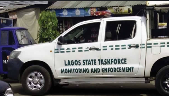 CITIZENS COMPASS– A Twitter user, @Babajideguerero, has taken to his Twitter page to narrate his ordeal in the hands of the men of theLagos State Environmental and Special Offensses (Environment) Unit(Taskforce).
He narrated this on Tuesday, December 20, 2022 having taking to the walk of Benjamin Hundeyin, Spokesperson, Lagos Stare Police Command to press home his demand, "I know you won't reply to this , but when it's time to get the petty thieves , your keypad will work . .you may be doing a great job in some quarters but YOUR men, Alot them belong to a psychiatric home, I mean this with EVERY DISRESPECT you feel.
"Yesteday the 19th, Dec I was on my way to shoot the last episode of @PulseSportsNG world cup show that I was commissioned to do, I was on MY lane, approaching the EDMUND STREET Turning into uni rd at Jibowu, when a suzuki cab overtook me and few minutes later you colleagues.
"from the @LagosGovt lagos task force came off 2 yellow buses, and arrested that suzuki cab and some other cars they claimed it was "Double lane", I WAS ON My right lane ,a dirty looking colleague of yours told Me "oga reverse , let us arrest these guys " while I was reversing.
"this YOUR guy whom your institution has immensely empowered with grand madne*s recorded me reversing , and told his fellow never-do-wells to arrest me saying "he's among ', it was like a movie..their stinky alcohol ridden selves were already in my car before I could a thing.
"what i heard was 'we are going to alausa'
I tried explaining but it was to DEAF ears (I mean that's not new with your people), as this act of "heroism" is very commendable by these people you represent , they drove Me to alausa , stressed my life.
"they drove Me to alausa , stressed my life , I won't come here tweeting if I was wrong , I wasn't wrong ..ADEYEMI leader of the TEAM C LAGOS TASK FORCE .
"told me to reverse Inorder for them to arrest the culprit , he recorded me reversing too.