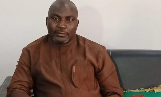 CITIZENS COMPASS– SAVE for divine intervention, the Speaker, Plateau State House of Assembly, Yakubu Sanda, would have been kidnapped by gunmen in Jos, the state capital.
Reports said he narrowly escaped the kidnap attempt as his assailants staged a midnight attack on his house in Jos Friday, December 6, 2023.
Plateau State Police Command confirmed the failed attack on the speaker.
The Police in a statement on Saturday, December 7, 2023, said the attack took place at the Speaker's house at the Federal Low Cost area in Jos South Local Government Area.
The attack on the speaker was the second within a space of a week as the Permanent Secretary, Ministry of Works, Alexander Plangnan in the same area was kidnapped on New Year Day but was rescued by the police 48 hours later.