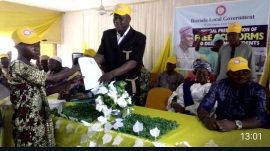 Community
Council boss distributes free GCE forms to 200 students in Ikorodu 
By Abimbola Joseph
CITIZENS COMPASS – THE Executive Chairman of Ikorodu Local Government, Hon Wasiu Ayodeji Adesina, on Friday, distributed free private General Certificate of Examination (GCE) forms to no fewer than 200 students in Ikorodu.
The Citizens Compass reports that the registration of the free GCE forms was fully processed and completed by the Council.
Citizens Compass also reports that each student was presented with photocards and timetable to go to their various centres,  rather than getting PIN for processing at the cafe.
Screening was conducted to select candidates across the wards in Ikorodn Central. while coaching would  be set up to prepare them well for the exams.
Adesina said the council was committed to improving the standard of education, raising resourceful youths as well as boosting the welfare of residents in the community.
"We are committed to improving education and encouraging  students to be more diligent in their studies.
"We are trying to meet the needs of different people, including community, schools and individuals to enhance their well-being.
The gesture comes with prizes, with best students getting N100, 000, N75,000 and  N50,000, for first to third positions.
He said the council would inaugurate five classroom blocks at Salvation Army and construction of perimeter fence at Jamaitul Islamiyat Primary School, as education remains a top priority of his administration
According to him, education is the best legacy and most profitable achievement that anyone can have and also the pillar that levels millions of people, irrespective of age or tribe.
He urged beneficiaries to take the opportunity seriously, as being the bedrock of their academic career.
"This administration is promoting education as its number one priority.
"We have been building schools, in fact, very soon, we will inaugurate five block of classrooms and perimeter fencing.
"The council also has plans to give each staff N5,000 on quarterly basis to cushion the effect of fuel subsidy.
"I urge the students not to relent on their life educational pursuit, but try to acquire additional skills to contribute to bridging the unemployment gap in the country.
Earlier, Mr Adedeji Owolabi, Head of Education Department of the council, said it would establish a coaching centre and monitor their performance.
Also speaking, Mr Shamsondeen Oluwarotimi, Chairman of the screening committee, commended the council chairman for approving full registration of 200 candidates.
He advised parents to encourage their wards and beneficiaries to prepare very well to excel in the examination.
Miss Omotola Omojola, an SS 3 student of Royal Baptist Academy, Ikorodu who was part of the beneficiaries, thanked the chairman and urged others to read very well for the exam.
Mr Oluwatobi Adebayo, also a beneficiary, called on philanthropists in Ikorodu to emulate the kind gesture of the chairman to support education.
He commended the chairman for his commitment on education.
Speaking on behalf of the traditional rulers, Chief Kayode Olomo, Baale Ojogbe, said they were overwhelmed, with the chairman's commitment to education.
He encouraged him in his effort in revamping the sector.