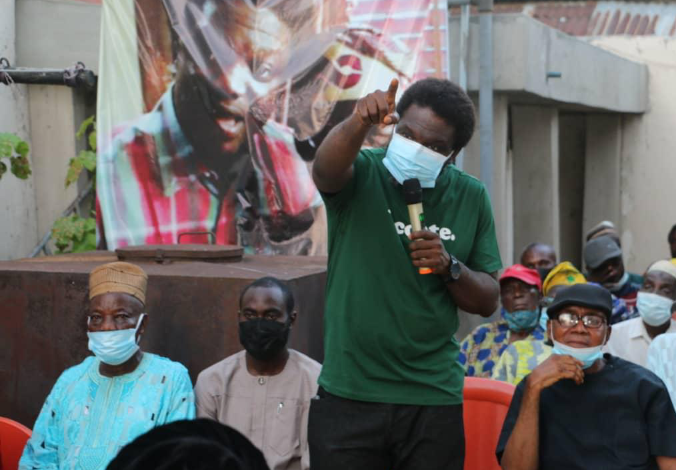 THE Immediate Past Executive Chairman of Amuwo Odofin,  Local Government, Lagos State, Comrade Ayodele Adewale has warned those casting aspersions on him to stop forthwith saying his attention has been brought to an unscrupulous social media post by the media aide of a particular chairmanship aspirant in Amuwo Odofin LGA aimed at blackmailing his person.
He said if the false rumour being spread about him is not stopped, he may be forced to take a legal action against those peddling rumour.
Adewale who made this known through a release by his group, The Consolidation Group, TCG's media team and signed by Ikenna Nwaeze said he has been mobilizing effectively for the All Progressive Congress (APC) for the past 4 years in Amuwo Odofin LGA Lagos State using his campaign organization, the consolidation group (TCG) as a bridge for the party and does not believe in using violence, arms and tugs as a back door process for realization of getting the party ticket.
The release further said that "It is also sacrosanct to note that as a genuine grassroot politician with many years of field experience and many electoral victories to his credit, he eschewed all form of electoral malpractice, vote buying procedures and malfeasance considering his pedigree as a civil right activist and his kind of person as a disciplinarian and strong advocate against corruption, violence and any form of bribery.
" It was indeed laughable to realize that news making the rounds from the camp of Hon. Dipo Olorunrinu and Valentine Buraimoh is that Comrade Ayodele Adewale has been induced financially by Valentine Buraimoh to a tune of 50million Naira which is the reason for his silence so far.
" It is worthy of note that Comrade Ayodele Adewale-led consolidation group (TCG) produced a very qualified aspirant who is from Lagos State after a very rigorous internal screening process against three (3) other aspirants who are members of TCG. The TCG candidate has strong tendency to match and also surpass the expectation of the aforementioned aspirants, so therefore comrade Adewale will NEVER trade his good name and that of TCG on the alter of bribery and corruption.
" Comrade Ayodele Adewale who has been working tirelessly to ensure his candidate Comrade Ibrahim Balogun make the final list hence advise unsuspecting members of the public to disregard the frivolous lies emanating from the camps of disgruntled elements basking in the euphoria of their impending disqualification".