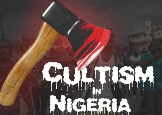 CITIZENS COMPASS – Many people scampered for safety on Friday, in Okota area of Lagos, during a clash by different cult groups from a high school in the area.
Reasons for the clash could not be ascertained but security operatives were said to have risen to the ocassion and restored normalcy. .
Our correspondent observed closely three gang members of high school boys in white shirts, holding broken bottles at Apata Roundabout and aiming to stab their target who had mixed among crowd of students.
When our correspondent spoke with some of the fleeing students. They all refused to speak saying it's a fight and they are not among.
"I don't know the group that is fighting. I'm just going to my house. I'm not there Sir," a teenage boy in Okota Grammar school uniform said.
A group of five boys fleeing inwards Isolo Road pleaded innocence and non participation.
-Franktalknow.com