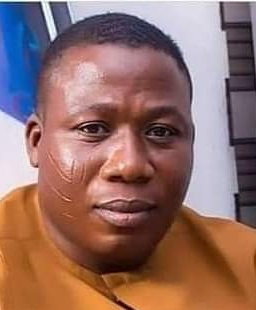 Global News
News
Sunday Igboho: Court rejects request for extradition, adjourns case for three weeks
THE Court D'Appal of Cotonou has declined the immediate extradition of the Yoruba Nation agitator, Chief Sunday Adeyemo popularlly known as Sunday Igboho just as ruled that the trial be adjourned for three weeks for further investigation.
Also, the Court which sat for about 11 hours granted the agitator access to medical care in Benin Republic as the agitator had pleaded that he will be killed if repatriated to Nigeria.
Citizens Compass gathered that journalists were not allowed to cover the proceedings though some of them were in the court premises to interact with people.
It was learnt that about 5, 000 supporters of Igboho have thronged the court premises in solidarity but none were granted access into the court.
According to reports, the session lasted till about midnight, though it was reported that the Police had brought Igboho to court as early as 7 a.m to beat his crowd of supporters.
Counsel to Sunday Igboho battled to secure bail for their client but the court only granted him access to medical care after the marathon sessions which lasted til about midnight.
Nigeria practises an adversarial system of justice but the Benin Republic has an inquisitorial system, a justice system in which the judge delves into the matter to enquire like the investigator, asking questions and probing the suspects.
The Chief Imam of Yoruba of Ilorin Yoruba Land in Nigeria, the Sheikh Abdul Raheem Aduanigba in a video said 47 monarchs came to Benin Republic in the morning and stayed till 5pm.
"Yoruba Nation supporters from Ghana, Senegal, Gambia, Sierra – Leone and other countries were in the court premises to declare their support for Igboho.
"Over 5,000 supporters including men and women were present," he said.
The Federal Government of Nigeria had accused Igboho of trafficking in arms, inciting violence to disrupt the public peace and agitating for secession.
It wants him repatriated to Nigeria by extradition, though lawyers said Nigeria and Benin have no extradition treaty.
Igboho and his wife, Ropo, were arrested at the Cardinal Bernardin International Airport, Cotonou, last Monday while trying to catch a flight to Germany.
However, Ropo, who is a German citizen was set free by the court on Thursday.
Igboho was remanded in the custody of Brigade Criminelle in Cotonou.
Igboho was placed on wanted list on July 1 by the Department of State Services (DSS) after its operatives raided his Soka residence in Ibadan killing two of his aides and arrested 12 others during the operation.
About 5,000 supporters of Sunday Igboho were said to have thronged the court in expectation that the case would come up at 10 a.m but were denied access into the court and this generated fears that the court was preparing grounds to extradite him to Nigeria.
Six Lawyers were said to have represented Nigeria while senior advocates from Nigeria, Benin Republic, Germany and other countries were present.
The details of the judgement is yet to be released.