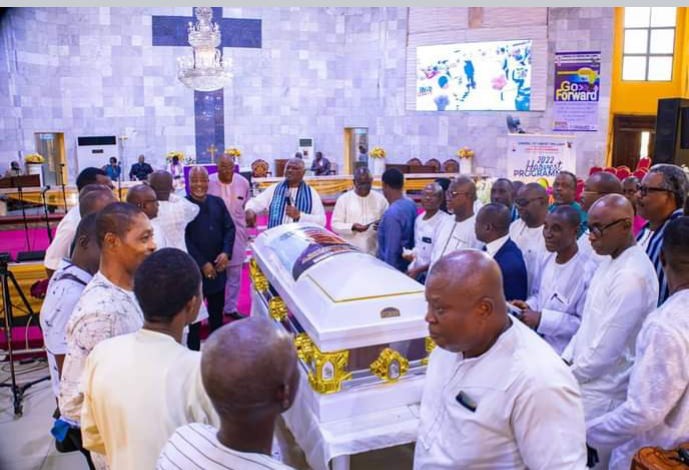 CITIZENS COMPASS – IT was a solemn assembly at the Private Vaults, Atan Cemetery, Yaba, Lagos, on Friday, 12th of August, 2022, as the remains of Mr. Oluwashola Kadiri, the late husband to the Director of Public Affairs, Lagos Waste Management Authority (LAWMA), Folashade Kadiri, was laid to rest.
Popularly called 'Solar,' late Kadiri was an accomplished businessman, who died on 28 July, 2022, after a brief illness.
The funeral service was held at the Chapel of Christ the Light, Alausa, Ikeja where the Vicar of Christ Anglican Church, Oworoshoki, Revd. Canon Garba Ibrahim Rika presided over the service.
He reminded the congregation about the inevitability of death for every human being, adding that individuals should endeavour to make a positive impact on people and leave the society better than they met it.
The Vicar maintained that the deceased touched many lives.
In her tributes, the widow described the deceased as a great family man, personal friend and confidant, a workaholic and good-natured fellow, who lived a rancour-free life and held no grudge against anyone.
In her words: "Dearly beloved, as you take those glorious steps, down the long lonely road, towards the waiting hands of our Lord, please remember to look back at intervals, to your loved ones you left behind, and assume your new role of a guardian angel; watching over and praying for us without ceasing.
"I must also inform you 'Solar', that it is not all tears upon your early transition. We got consolation from numerous testimonies of friends, acquaintances and others, all affirming your eventful life that permanently impacted humanity."
According to her, "I am deeply filled with immense gratitude to God Almighty, who made it possible for Oluwashola to have lived a life worthy of emulation. It has been a long journey of over 25 years together with him and I find it difficult to say good-bye here on earth.
"I am, however, consoled that my beloved husband has gone to rest in the bosom of the Lord and has fulfilled the desire of every Christian which is to one day leave this sinful earth and meet our maker in heaven just like Oluwashola has done.
"I am also comforted in my hope and prayers that Oluwashola and I would one day meet again to part no more, at the feet of our Lord Jesus Christ, Amen."
The children of the deceased, Olasunkanmi and Olamide, also extolled the virtues of their father