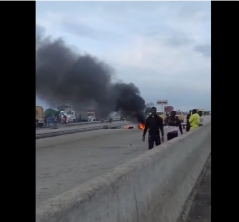 CITIZENS COMPASS —A usual daily activity among tanker drivers and Area Boys around Mile 2 area of Lagos State, turned bloody on Tuesday, September 5, 2023, as a tanker driver lost his life.
Lagos State Environmental and Special Offences (Enforcement) Unit (Taskforce), however, has distanced itself from the kiling saying its men did not carry out any operation around the area.
The security agency was reacting to a video which had gone viral on Tuesday morning alleging that Taskforce operatives had killed a driver during an opetation. 
Citizens Compass gathered that mayhem had occurred between a truck driver and some Area Boys over extortion of tanker drivers. 
This was said to have degenerated leading to the death of the driver while many others were injured as the Area Boys made bonfire on the road tjereby scaring motorists and commuters from the axis. 
Meanwhile, without detailed information, a video of the incident had gone viral alleging that the mayhem was caused by Lagos Taskforce. 
Reacting to the development, Lagos Taskforce through its Spokesperson, Gbadeyan Abdulraheem said, "The attention of the Lagos State Taskforce has been drawn to a report making rounds that officials of the Agency were involved in the killing of an unidentified individual along Mile 2 axis this morning.
" The Agency would like to clearly state that none of its personnel were posted out for operations today except for officers posted to Freedom Park, Ojota,  and Maryland to maintain peace and orderliness where a rally by the Nigerian Labour Congress has been scheduled.
"The Chairman of the Agency, CSP Shola Jejeloye stated that the Agency is usually mistaken for other enforcement units, but he stated that taskforce personnel are clearly adorned in tactical jackets with the word "Taskforce" clearly inscribed in front and behind with unique identification numbers.
"None of our men were posted out today for environmental and traffic operations, rather they were only posted to freedom park to maintain peace and orderliness during the planned NLC rally so that miscreants and other sinister forces do not hijack the protest. Our operational jackets are clearly branded with unique identification numbers for members of the public to recognize during our operations"
"The Chairman urged those pointing accusing fingers at the agency to further beam their searchlight at other public or private establishments who branded their enforcement units as taskforce. He also said that the Agency will do all within its power to get to the root of the matter and ensure that perpetrators of the heinous crime are brought to book."
Spokesperson, Lagos State Police Command, Benjamin Hundeyin in one of his tweets said investigation was ongoing.