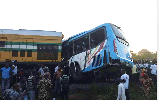 CITIZENS COMPASS– THE driver of the Lagos State Government Staff bus which collided with a train at the PWD/ bus-stop in Lagos, has blamed the incident on mechanical fault.
The 44-year-old driver, Oluwaseun Osinbajo, said this when he was recommended for psychiatric tests even as he pleaded for forgiveness from the accident victims.
However, some survivours said the driver had his earpiece on while driving and ignored the directive of the Flag Officers at the rail line.
Besides, the  Police said that the outcome of the medical report, among which was a  blood sample to ascertain if the driver was on drugs or mentally fit, is being awaited.
The driver who works with the Lagos State Ministry of Transport has been transferred to the State Criminal Intelligence and Investigations Department, SCIID,.
Vanguard overheard him narrating to some of his relatives who were waiting for him there.
He said,
It was not my fault. How could I have ignored warning signs? The bus had a mechanical fault.
It is a pity this has happened. I beg everyone affected to please forgive me in the name of God"
-Vanguard..