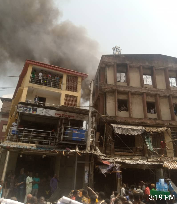 CITIZEN COMPASS- TEXTILE materials worth Millions of Naira were destroyed on Thursday, when fire gutted a storey building at No 74, Martins Street. by LSDPC Building, Lagos Island.
The Director, Lagos state Fire and Rescue Service, Margaret Adeseye, who confirmed this to newsmen said the emergency was reported at about 12:19hours.
''The Lagos State Fire and Rescue Service has doused a Fire outbreak at 74, Martins Street, by LSDPC Building, Lagos Island.
''The emergency which was reported at 12:19 hours, Thursday, saw Ebute Elefun, Oniru and Alausa Headquarters Fire Crews of the Agency confined the Fire to the topmost floor of the three storey building where it emanated from.
''The structure is being used for trading in textile materials on the ground floor and then first floor has shops while the second and third has stores for clothing materials.
''It is on record that no injury or casualty is recorded in the operations which is being rounded up as damping down in progress.
The investigation into the cause of the incident will commence immediately after the mitigation is concluded.'' She said.
Permanent Secretary, Lagos State Emergency management Agency (LASEMA). Oluwafemi Oke-Osanyintolu also confirmed the incident saying, ''Upon arrival at the scene of the incident, some rooms on the third floor of the tree-storey building were observed to have been engulfed by fire.
''Information gathered revealed that clothing materials were stored inside the rooms. Fortunately, no casualty was involved in the incident. The cause of the fire could not be ascertained.
''The fire has been successfully subdued by the combined efforts of the Agency's response team alongside Lagos State Fire and Rescue Service, LRU fire unit, UBA, LNSC, CBD, and the Nigeria Police.
''Dampening has also been concluded to prevent it from reigniting, Operation concluded.''
The collapse occurred barely a week after fire gutted a building on Broad Street, Balogun Market on the Island.